Cape Verde isn't just one island – there are lots!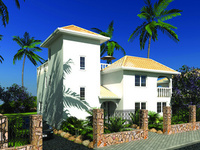 Cape Verde is similar to the Caribbean in that it offers a number of islands which are all quite different. The advantage of Cape Verde is its easy accessibility to the UK. Flight times are just over 5 hours.
Cape Verde's property market is experiencing a tremendous boom with property prices rising – 15% in 2007 which is expected to reach a min of 25% in 2008. Rental income can be 12 months of the year as the islands benefit from all year round warm and sunny weather with an average temperature of 25 degrees.
"As a company we are the largest operator on the islands", says Darren Mitchell of Cape V, an agency with offices in the UK and on Cape Verde. "Most agents offering homes at Cape Verde only have maybe one or two developments. We have 30 developments on 5 islands.
Cape V has been specialising in Cape Verde for a number of years and can offer homes on a number of islands. We also have a very strict policy as to which developers we deal with and only accept their properties when they have been fully vetted by ourselves and our solicitors. Cape V prides itself on its integrity and ability to deliver what it offers. By ensuring that all developers are bona fide we can sell to clients knowing that they are making a good investment".
Cape V run highly efficient inspection trips to enable potential purchasers to fully appreciate what Cape Verde has to offer and this includes inter-island flights. The main islands are Sal, Fogo, Santiago, Sao Vicente and Sao Nicolau and tour operators offer holiday makers day trips although Cape V can offer such visits at substantially lower costs.
Cape V offer weekly Discovery Trips including scheduled trip for 3 days for £389 or 7 days from £499, which includes minimum 4* hotel, transfers and trained Cape V guide for developments and the islands themselves. This gives buyers an invaluable insight into the area.
Cape Verde's Government is pursuing a market orientated economic policy with a welcome to foreign investors and a far reaching privatisation programme. The tremendous growth in recent years of the tourist industry has been nothing less than amazing. Money is pouring in from investors from power companies to a new 5* Hilton resort due to open in 2010.
Concluded Darren", As a company we have 30 developments on the five main islands. I would say to anyone buying a property in Cape Verde - consider all that these beautiful islands have to offer so that you can make an informed choice".
Some exceptional "buys" through Cape V include –
Sal island
Sambala Resort built by Sambala, the largest private land owner in Cape Verde.
Easy access following the opening of the new International Airport they have just launched the 3rd phase of development called Fogo Villas. Located on 24 acres by the sea, owners will also benefit from the Country Club, with restaurants and roof top bar plus gym and business centre. There are a number of swimming pools, although most villas have private pools; plus Spa and Well Being, shopping facilities, hotels and world class marina.
3 bed, private pool villas £310,000 euros/£234,446
5 bed private pool 460,000 euros/£347,853
Capital appreciation 10% projected gain per annum.
Guaranteed rental income 5% pa
These figures relate to furnished properties. Furniture packages are available.
Santiago island
Villa Jardin do Oceano
42 villas with spectacular ocean views. Each villas has own pool. Club house has infinity pool.
Easy access Praia, the capital of Cape Verde.
Prices from 250,280 euros/£191,340
Sao Vincente Island
Nikki Beach is an ultimate beach club concept that brings dining, fashion music and entertainment together in this niche resort intended to appeal to those looking for 5* quality.
Villas start from 370,000 euros to 995,000 euros. (£282,853 to £760,646)
For further information, visit capev.co.uk.