Rosa del Mar – Make 'em green keep 'em keen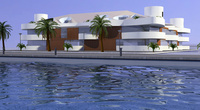 UK Chancellor Alistair Darling delivered his first budget on 12 March and a distinctly green flavour came out of his red briefcase as he focused on cutting carbon emissions from homes, businesses and transport. This was inevitable as every responsible individual and industry throughout the world looks to halt the onslaught of global warming – and that includes the architects who are shaping the overseas holiday homes of tomorrow.
Rosa del Mar, the latest loft-style apartment resort to be released on Cape Verde's Sal, comes from the drawing board of Costa del Sol architect studio - Diseño Earle. Founder, Michael Earle, is as dedicated to respecting the environment as he is to championing modern design and if Alistair Darling needed a model example of responsible building – Rosa del Mar could be it.
Michael Earle comments, "With a Caribbean-style climate and 360 days of sunshine per year it seemed logical to make the most of Cape Verde's natural resources. We have designed the apartments at Rosa del Mar to almost exclusively use passive cooling systems over-and-above air-conditioning. Solar chimneys will be employed whereby an exterior double skin is exposed to the sun, heating the air between the skin layers, and as the hot air rises quickly a suction or updraft will pull the hot air out of the building replacing it with the cooler air from below, air that has been cooled by water. Not only will this lower the temperature but it will also offer natural ventilation and air-flow without recycling stale air."
Diseño Earle has also considered energy efficiency and implemented photovoltaic panels (solar cells) to create power. Michael continues, "Rosa del Mar will be capped with photovoltaic panels to generate a large amount of the power required in the homes therefore producing a very low carbon footprint. Solar cells harness a free and inexhaustible power supply, the sun, and they are non-polluting, require minimal maintenance, operate for decades without replacement and are silent in their work. All buildings of the future have no excuse but to consider photovoltaic panels, particularly in a sun-kissed environment such as Cape Verde."
Rosa del Mar is a flagship apartment development within the government-backed marina resort of Porto Murdeira set near mid-way between Sal's International Airport and the Island's cultural capital of Santa Maria at 10km and 8km respectively. The two bedroom apartments and two and three bedroom American-style duplexes occupy a prime beach- and marina- front location within Porto Murdeira. With a curvilinear form inspired by the Cape Verdean landscape, Rosa del Mar homes have fully equipped kitchens including appliances, high quality sanitary ware, floors tiled in local stone and wood and insulated sunscreen glazing whilst hot and cold air conditioning, TV and telephone points come as standard.
Porto Murdeira has its own 18-hole golf course (with soon to be announced big name signature) complete with driving range complemented by the adjacent Ernie Els-designed course and elite Nikki Beach. Three four- and five- star hotels dip their toes into warm turquoise waters whilst bars, restaurants, shops and residential accommodation skirt the 200-berth marina capable of accommodating the largest of motoryachts, up to 100 metres, as well as the water taxis which deliver passengers from island to island.
Prices at Rosa del Mar start from 194,000 euros for a two bedroom apartment. Participate for as little as 58,200 euros representing first 30% payment. Completion scheduled for December 2010, stage payments are held in escrow and a penalty system is in place should the developer delay with delivery.
Up to 85% LTV mortgages are available, including a period of interest only, subject to normal status and conditions.
For more information, visit investmentsworldwide.co.uk.