An inspection trip to remember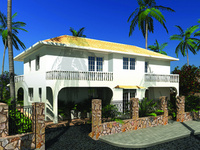 Are you aware that Cape Verde comprises several islands each with a different landscape and lifestyle?
If you are serious about buying abroad then before making your final decision you will appreciate the need to take an inspection trip to make your choice of new home and see it is situ or at least where it is to be located.
However, if you are considering Cape Verde then you may not be aware that there are several islands there, each with a different landscape and lifestyle. Even if you are aware of the many islands, several of which are going through radical changes, do you realise that there are superb opportunities to see them before your final commitment?
Cape V, is a major UK based company specialising in the islands. They offer more developments on more islands than any other company selling in this region, in fact they have over 30 developments on the five main islands to offer clients, all of which have passed stringent searches by Cape V's solicitors to ensure buyers of complete peace of mind regarding ownership of land and property together with quality of build.
So, if you are thinking of going to the island of Sal on holiday or visiting with a view to buying you may be delighted to learn that through Cape V you can go to the island of Santiago for two days and one night at an exclusive rate of £100 per person. A well known, major travel company charges substantially more for a one day trip!
Only 45 minutes flight time, Santiago is a fertile, Southerly isle and the trip includes a visit to Villas Jardins or Sambala an amazing complex located next to miles of unspoilt beaches. Your "Discovery Trip" will also include a visit to Praia, Cape Verde's capital, where you will see the President's House and the market place. Cidade Velha is renowned for its church, once said to have been visited by Sir Francis Drake together with Black Beach, where the slaves were once sold. You can visit the botanical gardens before driving to the East Coast through pretty villages, stopping off at the fishing village of Pedra Badejo.
"By going with an experienced person to the other islands, buyers truly feel and understand where they are buying. By staying longer than just one a day they benefit from appreciating the night life, which can be low key or vibrant – but always different. They have a chance to get a better feel for the place", says Darren Mitchell, Director at Cape V.
Currently being offered by Cape V on the island of Santiago is the amazing development of Sambala, a parcel of land some 20 sq km stretching along the coast to embrace pristine beaches and lush land enhanced with a brand new marina and a choice of high quality sustainable homes for the discerning. This is a 15 year project but is already in the 3rd phase such has been the demand.
Currently available are Fogo Villas. These are extremely smart, substantial, one and two storey homes comprising a choice of 3/4/ or 5 bedroom each with own pool. They will benefit from 25 acres of landscaped tropical gardens and two communal swimming pools with water bars.
Residents will also benefit from the Fogo Country Club.
Prices currently start from £255,512 up to £381,737
Rental income – Sambala offers the opportunity to lease back their furnished property in return of a 5% guaranteed rental income through 5 year scheme.
For more information, visit capev.co.uk.