Six-star luxury in Cape Verde without the six-star price tag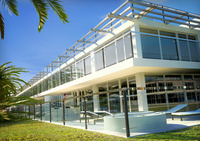 Boa Vista, the furthest east of the Cape Verde archipelago and known as the 'island of beaches and dunes', is home to Palm View Resort – one of only a handful of six-star residential resorts in existence and more than worthy of its rating.
Nestled amongst the date palms Palm View Resort offers spacious apartments and contemporary villas skirting untouched sandy beaches. Each has been meticulously finished with imported Italian marble for the flooring and over 90% of the exteriors are made up of floor-to ceiling tempered glazing to soak up the sea views and warm sunshine. With cutting-edge interior design, each property is fully furnished and has an integrated 42" plasma TV, DVD and HiFi as standard whilst everything two bedrooms upwards has a relaxing Jacuzzi tub.
On-site there is a six-star boutique hotel, no less than nine swimming pools, four restaurants, beach bars, a disco bar, gymnasium, luxury health and beauty Spa, tennis courts, football pitches, an open-air theatre and boutiques. Venturing out of the resort, the capital Sal Rei with its brightly painted houses is within a few minute's drive whilst the Sahara-like dunes covering the interior of the island are well worth a visit. Boa Vista is also the third most important loggerhead turtle nesting site in the world and these precious creatures can be seen nesting on the beaches at certain times throughout the year.
Owners are automatically entitled to a Palm View Resort Privilege Card which accesses a 24-hour concierge service available for use even before they've left the dreariness of northern Europe. Flights, airport transfers and a champagne reception will all be arranged on your behalf so all you have to do is tick the days off the calendar until you can feel the sand between your toes. The Card also rewards residents with discounts off dining, beauty treatments, shopping and sporting activities.
The good news is as Cape Verde is still emerging as both a tourism and second home destination six-star luxury does not attract a six-star price tag. Studio apartments are priced from 70,000 euros, two bedroom apartments are priced from 170,000 euros and striking five bedroom four bathroom detached villas set atop the sand dunes with private infinity pools are priced from 630,000 euros. Payment terms are 6,000 euro reservation, 30% on private purchase contract, 20% five months after and the remaining 50% on completion scheduled for the first quarter of 2010. The resort also offers a rental guarantee of 5% net for the first three years from completion to include four weeks' personal use per annum and if the arrangement suits this guarantee is renewable.
For more information, visit gem-estates.com.