Better capital gains on properties abroad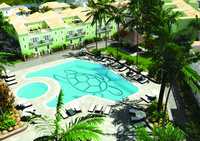 The current credit crunch is having some surprising effects, not least on the property market. In the UK, building societies are reporting a slowing of sales and a decrease in property values with the market bracing itself for a further decline under the threat of more rises in the mortgage rate.
However, this is not worldwide. There are many countries that have reported no defining change to property values and in some cases homes are rising at a remarkable rate, making them excellent for investment.
Take for instance, Cape Verde, a cluster of Caribbean style islands off the West coast of Africa and within a 5 hour flight time from the UK.
Here property prices are continuing to rise at a staggering 15/20% pa.
"Where else in the world can you invest in a home with such excellent returns and in a country which is economically and politically stable?" says, Darren Mitchell, Director at Cape V, one of the UK's leading experts in property on these islands. "There is significant investment in the island from factories to major hotel chains and with the introduction of direct flights from such travel companies as Thomson, the islands' true potential as a mainstream holiday and 2nd home destination is happening and it is happening now!"
Certainly anyone investing in a brand new property in 2008 should see a minimum 15/20% return in the first 12 months, which is substantially higher than the UK market place and of course rental is big business too with year round warm and sunny weather, easy access and a Government which is pro- active in furthering its importance on the world market place.
Cape V offers potential buyers one of the largest selections of properties in Cape Verde, the company having major developments, hotel complexes and niche style new homes available on a variety of islands at this exotic location.
One remarkable development is called Sambala on Santiago Island, Cape Verde. All investors have the opportunity to lease back their furnished property into the Sambala Resort in return for a 5% guaranteed rental income through their five year Resort leaseback scheme. This scheme guarantees to pay investors a rental income of 5% net of the purchase price of their property over a fixed five year period.
Sambala, is a British owned company and is creating a thriving Resort community which will comprise, upon completion, 2,500 private residences together with two championship golf courses, marinas, hotels and a host of sports, leisure and cultural facilities.
Prices
3 beds, 2 baths, private pool 310,000 euros/£234,446
Capital appreciation 10% - projected gain per annum.
E.g. 5 year capital appreciation per unit 189,000 euros/£142,936.
Guaranteed rental income 5% pa
5 bed, 3 bath, private pool 460,000 euros/£347,853
Capital appreciation 10% pa projected
Guaranteed rental income 5% pa
5 year capital appreciation per unit 280,000 euros/£211,736.
These figures relate to furnished properties and Furniture packages are available.
For more information, visit capev.co.uk.