Yachting haven in Cape Verde heaven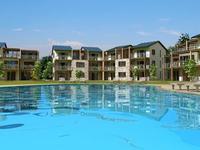 Recently dubbed 'Europe's Caribbean' by The Telegraph and already famous for being an exotic winter sun retreat and a tropical paradise within easy reach of the UK and mainland Europe, the Cape Verde archipelago is now rapidly emerging as an exciting and affordable destination on the yachting fraternity's map.
Given Cape Verde's strategic position and nautical history it should be relatively unsurprising that modern-day sailors are extolling the virtues of enjoying the waters around the islands. However, just as the islands have been hiding their beauty and environmental diversity under a bushel until recently, so the appeal of sailing the Atlantic Ocean around the archipelago has been something of a lesser known secret until now.
Due to Cape Verde's location off the coast of Africa and en route to Europe, the islands were once an incredibly important trans-Atlantic shipment point. Additionally it is believed that the unique wind patterns in the region caused sailing ships passing between Europe, the Americas or the East to almost always sail close to the archipelago, and therefore the islands became important ports for ship repairs and provisions requirements.
Nowadays the main port at Mindelo on Sao Vincente is more famous as a stop off point for luxury cruise liners. And whilst the tradition of rum consumption in Mindelo may not have changed since the days when the port was home to ancient sailing ships, everything else about the nautical face of Cape Verde certainly has!
Boasting a year round sailing season, ideal wind conditions, warm waters and some challenging sailing conditions between the islands, Cape Verde is becoming increasingly popular with both seasoned sailors seeking fresh horizons as well as those wanting to learn the basics or hone their sailing skills.
And with distances of up to 140 nautical miles between some of the island locations within the archipelago, there is plenty of scope and many advantages to sailing in this part of the Atlantic. What's more, Cape Verde is now home to more than one sailing school and multiple marinas are under construction within luxury residential resorts in which keen and amateur yachtsmen and women can moor and take in the delights of the islands.
Unlike the Mediterranean which has become famously overcrowded recently, resulting in oversubscription in the most popular marinas such as those along the Costa del Sol where local authorities have intimated that there is a requirement for a 300% increase in the numbers of moorings available just to satisfy existing demand, as yet the waters around Cape Verde remain open, enjoyable and accessible. Additionally, those who move quickly to secure their berths at the islands' high-end and exclusive marinas will do well over the long term in investment terms according to Adrian Lillywhite, who's the managing director at Cape Verde Property Ltd.
Mr. Lillywhite recently reported that: "there are many investment approaches that are proving successful in Cape Verde at the moment. For those simply interested in buying properties to let, rental yields of up to 8% are being achieved easily because there is increasing demand for holiday accommodation, and this demand exists year round. For others seeking investment diversification, a new opportunity is presenting itself across the main islands of Cape Verde, and this opportunity comes in the form of marina berths.
"We have assisted a number of experienced and savvy investors recently who have recognised the fact that increasingly, Cape Verde is attracting the yachting fraternity. These investors have been buying up berths in the likes of the brand new, state of the art dedicated marina in Mindelo where a five year lease costs in the region of €18,225 for example, or they have been buying properties and berths within some of the higher end residential resorts under construction where marinas are included within the impressive list of onsite amenities and facilities.
"These buyers consist of seasoned investors, who know that waterside living is one of the fastest-growing trends in the real estate world especially when a marina berth is included, and keen sailors seeking a luxury property and a well serviced berth. Each purchaser knows full well that they will be able to let and eventually resell their properties to an increasing, affluent and captive market seeking out the fabulous sailing around Cape Verde and requiring a place to moor their craft and lay their hat."
In terms of some of the high-end residential resorts under construction around Cape Verde which feature marinas, they include: -
Cotton Bay Golf and Marina Resort which is on the west coast of the island of Sal and which incorporates two 18 hole golf courses as well as an impressive 354 berth marina.
The development consists of a range of real estate from modest apartments which start from €126,000, to fabulous frontline villas which overlook the marina and the beach and are priced in the region of €1.65 million.
Pedra de Lume Golf and Marina Resort where construction was officially started when the president of Cape Verde laid the first stone in 2007. This development is also a major regeneration project to revive a beautiful fishing village and transform it into a five star community consisting of a total of 2,100 property units.
There will be seafront villas with infinity pools, four bedroom golf villas, townhouses and one, two and three bed apartments and the resort will include communal pools, a marina, an 18 hole golf course, a luxury spa, numerous bars, restaurants, shops, local markets and five star hotels and commercial areas. Prices for properties start from €110,000 for a 1 bed apartment and go to €500,000 for a frontline villa.
And for the yachtsperson in search of the ultimate property for sale in Cape Verde how about Tolus Villa in Mindelo on San Vincente?
This unique property is located in an exceptionally elevated and superior position and boasts panoramic views over Mindelo harbour and out to the sea across the new marina. Tolus Villa has 4 bedrooms, 4 large balconies, a fabulous sun terrace along with an enormous kitchen and living room. There's a large art studio on the ground floor along with a playroom, there are two bathrooms and two further WCs as well as a garage, and the total size of this unique property is approximately 450 m/sq. This property is priced in the region of €385,000.
For more information, visit capeverdeproperty.co.uk.