IFA plans for retirement with Cape Verde property portfolio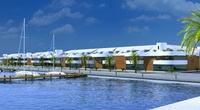 As an IFA, Tony Sharp, 40, is used to giving out best advice on how to make the pennies work hard to secure a brighter future. But with one particular client the roles took an unexpected reversal. A couple in their fifties had been on a property inspection visit to the island of Sal within Cape Verde and fallen in love with the place but feared it would be too long a wait to truly enjoy a second home. As a former travel agent the wife was quick to recognize a destination that, although with an adequate supply of hotels and restaurants, would probably take the best part of a decade to really come into its own as a fully paid-up member of the holiday hotspot fraternity. A decade was too long for them, but as a proposition it certainly made Tony's ears prick up.
Tony picks up the story, "We've had a holiday home on the Costa del Sol for almost three years and the purpose it serves is exactly that, somewhere my wife Kellie and I can nip over to from our home in Cheshire for mini-breaks without it disrupting the work schedule too much. But, what I now had my eye on was a property investment that was likely to produce a return in time for retirement which I'd penciled in for age 50. As my father had made his nest egg snapping up bricks and mortar on the Costa del Sol well over a decade ago, watching a 50,000 euro home become one worth 300,000 euros, I looked to do the same. But obviously I'd have to look elsewhere as today's established Spanish market is not the buoyant emerging market of yesteryear. Suddenly where the Cape Verde model fell short for my client, it all stacked up for me and we started our enquiries."
Although Tony and Kellie now had Cape Verde as a contender, they continued to compile a shortlist of options using the criteria of an emerging market yet to realize its full potential, winter sun to sustain a year-round rental market and somewhere politically and economically sound that wasn't going to take a sudden turn for the worse. The Canary Islands made that shortlist but for the sake of flying just that little bit further south, Cape Verde's climate and annual double digit capital appreciation knocked its island counterparts into a cocked hat. Decision made. With the help and advice of GEM Estates Tony and Kellie now have a two bedroom in Djadsal Moradias bought for 111,550 euros, a two bedroom in Tortuga Beach Resort and Spa for 162,950 euros and new addition, a two bedroom duplex for 212,750 euros in the trendy marina-front resort of Rosa del Mar in upmarket Porto Murdeira.
Tony continues, "In many ways our Cape Verde properties are our pension to keep us comfortable in our 'old' age. Take Rosa del Mar for example, it's almost like a long term savings plan. We have only put 30% down, have several nicely spaced stage payments to make, and by the time it's ready to go in 2011 we'll only owe a manageable 40% which of course had been fixed in value at purchase. And, better than a pension, should we have a change of circumstances and need to get out in ten years, the exit strategy will be in place as the islands mature, and if we accidentally pop our clogs our next of kin can enjoy the much appreciated asset."
Tony concludes, "Apart from nipping over on the odd occasion to tinker with our Cape Verde investment portfolio, maybe a few rounds on the Ernie Els course destined for alongside Porto Murdeira, we really do see these properties in terms of monetary value and as we have time to wait, we have high hopes for high yields."
Porto Murdeira's Rosa del Mar
GEM Estates is marketing the uniquely styled Rosa del Mar, a residential complex within Porto Murdeira marrying cutting-edge architecture with comfortable living. In a coveted beach and marina front location, Rosa del Mar comprises two bedroom apartments and two and three bedroom American-style duplexes, as well as a carefully screened selection of street-level commercial units from designer boutiques to jewelers. The homes have fully fitted and equipped kitchens, flooring in local stone and wood, insulated sunscreen glazing, TV and telephone points.
Porto Murdeira is a multi-faceted gated resort equipped with everything required for leisure and pleasure. Aside from a 200-berth marina to accommodate even the largest 100 metre megayachts, there are four and five star hotels, the Island's only licensed casino, an 18-hole golf course complete with driving range, sports clubs, shopping centres and a variety of bars and restaurants, many scattered around the focal point of the marina. Soft white sands skirt the resort and provide a gateway to Sal's abundant marine life ranging from tropical fish to dolphins and turtles all sharing the crystal clear waters. The Island also ranks amongst the world's best for windsurfing, kite surfing and deep-sea fishing.
Prices start from 190,300 euros for a two bedroom apartment with 30% due on private purchase contract and then staggered stage payments until completion scheduled for March 2011. Stage payments are held in escrow and a penalty system is in place should the developer delay with delivery. Up to 85% LTV mortgages are available, including a period of interest only, subject to normal status and conditions.
For more information, visit gem-estates.com.