Investor interest shifts from UK to overseas in wake of credit crunch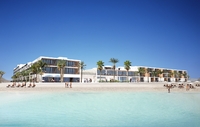 According to a new survey by Jet-to-Let Magazine investor interest is moving away from the UK buy-to-let market and towards foreign investment opportunities. Over 50 per cent of investors said they aim to invest in an overseas property in the next 24 months, with 35.8 per cent keen to invest in the next 12 months.
For investors looking for overseas opportunities Cape Verde's property market is currently in its early stages, and investors can look to gain early entry by purchasing property in prime locations now at low prices.
Often likened to the Caribbean, Cape Verde offers a fantastic year round climate and easy access. It has stunning beach-front properties and offers investment opportunities that are second to none. The islands are enjoying the advent of a huge tourist boom which will have an inevitable impact on the value of its property prices.
Cape Verde is a group of islands situated south of the Canary Islands off the Western Coast of Africa, only 4 to 6 hours away from Europe. Comprising of ten islands, each has a special appeal from the lush almost tropical forests of San Antoa to the arid desert interior of Sal, there is a landscape that offers great intrigue and opportunities to explore. Boavista presents an interesting mix of rolling mountain ranges, rugged interiors and the occasional oasis and is regarded as one of the most attractive islands boasting the best beaches.
Katy Katani Sales and Marketing Director for Sands Developments Cape Verde comments: "we have witnessed an increased number of investors looking for opportunities in Cape Verde due to the down turn in the UK buy-to-let market. Cape Verde is an emerging market and prices are low offering excellent investment potential. The tourist market is really taking off there which is fuelling demand from investors - since 2000 we have seen an increase in tourism of 24% annually. "
Sands Developments Cape Verde have two developments for sale on Boavista Sabi Sands Resort and Creola Sands Resort which will appeal to investors. Sabi Sands Resort is located on the hillside of the Rotchinha Mountain the development has spectacular views of Cabral beach and the Atlantic Ocean. To the east of the development lies the sand dunes and palms trees of Floresta Clotilde, to the north lies Fatima and to the south the town of Sal Rei.
The islands airport is only 7 km away. Sabi Sands features 119 luxury contemporary residences including villas, townhouses and large studios which stand out due to their innovative design, choice of materials and attention to detail. All properties are light and spacious with large terraces and balconies with some benefiting from private pools. The development has a 24 hour concierge service, two outdoor swimming pools, a restaurant, several bars and entertainment areas, a doctors office, internet café, mini-market and children's play area. Prices start from €90,000 for a studio up to €389,000 for a four bedroom detached villa and are being offered for sale with 5% rental guarantee for two years.
The Creola Sands Resort is located on Cabral Beach in a superb beachfront setting with views of the Atlantic Ocean and close to town of Sal Rei, just 7 km from the international airport. This spectacular resort benefits from excellent facilities including two outdoor swimming pools, restaurant, a bar and entertainment areas, a gymnasium, a doctors office, an internet café, a mini-market, terraces overlooking colorful gardens, a children's park and a children's entertainment area. The scheme features over 350 luxury contemporary studios, apartments and duplexes and offers the exclusivity of living in a unique and unrivalled natural setting. Prices start from €74,000 for a studio up to €355,000 for a large duplex and are being offered for sale with a 5% rental guarantee for two years.
For further information on Sands Developments Cape Verde, visit sands-capeverde.com.