Cape Verde - It's not all about Sal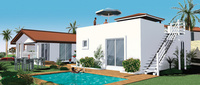 The vast majority of Cape Verde property purchasers are hoping for consistent rental income coupled with a small amount of personal holiday usage each year. A significant proportion sign up for sandy Sal, seduced by the promise of high rental returns when resorts complete, accessibility improves and infrastructure expands. But could these buyers be forgetting the elephant in the room – the established island of Santiago?
It's surprising that Santiago and Sal belong to the same family. Whilst Sal is rightly famed for its sweeping beaches, it's also quite flat and very petite with a population of just 15,000. Santiago on the other hand is green, mountainous, palm fringed and feels like it should have a Caribbean address. Home to around 240,000 people, half of Cape Verde's population, it's the largest island at 991km² and also hosts the nation's capital – Praia. And, with regular direct flights from London to Lisbon, Stockholm to Paris – if it's rental income you're after, Santiago is ready to go.
Carley Todd GEM Estates' Cape Verde expert comments, "Santiago is light years ahead of Sal in terms of completed or near-completed amenities and is more tangible as an island requiring less imagination from off-plan investors. The airport is always busy with domestic and international passenger traffic, the deep-water port at Praia employs 140 staff and is doubling its cargo handling capacity through a multi-million expansion plan and the nation's first finished golf course will be on Santiago, the Nick Faldo Estrela Santiago where earth movement is visibly underway set for a 2010 opening. Although as a company we've undoubtedly had a Sal bias by virtue of the much wider range of property to promote on that island, we're keen to also wave a flag for Santiago as it offers completely different scenery for our clients."
Belying its size and maturity, the holiday property market in Santiago is actually quite embryonic. Just a handful of resorts are being marketed and with hotels running at a healthy 70% occupancy plus tourist arrivals soaring year-on-year, demands on short-term rental accommodation are high.
Vila Jardins do Oceano is one resort that fits the bill and gives investors that combination of consistent (in this case guaranteed) rental income plus an idyllic holiday getaway. Three minutes' stroll from Cidade Velha, UNESCO world heritage site, cradle of the Cape Verdean nation and first city to be built by Europeans south of the Sahara way back in 1462, Vila Jardins do Oceano is actually within the historic boundary of this vintage colonial port and as such has to observe the strictest planning controls. Build density must remain below 20% and height is ground floor only, although sunny roof terraces have got a welcome green light.
Tucked around a sheltered private cove, which will receive a layer of white sand to cover the existing volcanic, the 40 two and three bedroom villas face south and thanks to their staggered arrangement on a gentle slope, each has unhindered sea views. On private plots of between 385 and 500m² with a fresh water swimming pool apiece, the villas (130m² for two bedrooms and 180m² for three) are tastefully decorated and equipped with all appliances whilst on-site amenities are comprehensive for what is essentially a boutique resort. Two tennis courts, a bar, restaurant and the showpiece, an iconic infinity swimming pool – Cape Verde's first.
The team behind Vila Jardins do Oceano has options on several other building plots within Santiago and has every intention of improving the physical and human environment along the way. Construction is according to the ICF (Insulated Concrete Forms) technique developed in Hawaii which creates an energy-efficient home offering even temperature distribution, fire resistance, sound resistance and hugely reduced electricity bills. The extra thick walls have a cooling effect and air-conditioning use is literally slashed in half.
Vila Jardins do Oceano has an unlimited water supply via an ecologically sound dual desalinization plant, if one fails the other backs up, and the entire community of Cidade Velha has benefited from high-voltage electricity cables so their intermittent power supply is now a thing of the past. All site workers are sourced from the neighbouring town and if ever there was a measure of acceptance of a foreign developer, he is now godparent to 300 of the local children and is rebuilding their school as a first gift. And, for cynics, all of this after planning permission had been granted!
Vila Jardins do Oceano is priced from 260,000 euros for a two bedroom villa within 60 metres of the beach. When you consider a comparable unit on Sal could command a minimum of 500,000 euros, capital appreciation prospects are high. The rental guarantee is at 7% for seven years in conjunction with a respected Cape Verdean hotel chain and 50% self-cert and up to 70% mortgages are available through a Portuguese bank subject to status.
For more information, visit gem-estates.com.