Bond, exchange bond - Cape Verde property made easy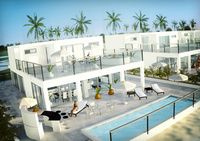 There's nothing like a good credit crunch to jangle the nerves. The brakes go on big financial decisions, an overseas property purchase being the most obvious. But if you could buy an apartment in a six-star Cape Verde resort for just 6,000 euros, take ownership upon completion in 2010, have absolutely nothing to pay until 2015 and 100% confidence you could get every cent back if the developer ran into financial difficulty – you'd probably put your foot back on the gas. We introduce the Exchange Bond.
Carley Todd, GEM Estates' Cape Verde expert explains, "The Exchange Bond is gradually being adopted by developments across the globe with Palm View Resort on the island of Boa Vista being one of them. An alternative to making substantial cash deposits or stage payments throughout the build process, the Exchange Bond defers payments until completion which in Palm View's case is 2010. Purchasers can keep hold of their cash, make it work hard in high interest accounts or other investments, and enjoy several years' grace to amass closing funds if necessary. And, should the developer run into trouble, the Bond ensures safe return of your monies."
Carley continues, "Palm View Resort offers a double whammy as the need to dip into your finances is further deferred to a distant 2015. Once the minor manageable hurdle of 6% completion costs (legal fees and so on) is overcome at 2010, a 7% rental guarantee kicks in for five years which takes care of interest-only mortgage payments arranged courtesy of the developer, as well as community fees. From 2015 you're on your own but with prices fixed now and current 20% rates of capital appreciation, your property is likely to be worth more than double the loan secured on it, plus the rental market will be well-established by then. Unsurprisingly, since their announcement to accept Exchange Bonds, sales at Palm View Resort have mushroomed."
Nestled amongst the date palms, the six-star Palm View Resort offers spacious apartments and contemporary villas skirting untouched sandy beaches. Each has been meticulously finished with imported Italian marble for the flooring and over 90% of the exteriors are made up of floor-to ceiling tempered glazing to soak up the sea views and warm sunshine. With cutting-edge interior design, each property is fully furnished and has an integrated 42" plasma TV, DVD and HiFi plus relaxing Jacuzzi tub as standard.
On-site there is a six-star boutique hotel, no less than nine swimming pools, four restaurants, beach bars, a disco bar, gymnasium, luxury health and beauty Spa, tennis courts, football pitches, an open-air theatre and boutiques. Venturing out of the resort, the capital of Boa Vista, Sal Rei, with its brightly painted houses is within a few minute's drive whilst the Sahara-like dunes covering the interior of the island are well worth a visit. Boa Vista is also the third most important loggerhead turtle nesting site in the world and these precious creatures can be seen nesting on the beaches at certain times throughout the year.
Owners are automatically entitled to a Palm View Resort Privilege Card which accesses a 24-hour concierge service available for use even before they've left the dreariness of northern Europe. Flights, airport transfers and a champagne reception will all be arranged on your behalf so all you have to do is tick the days off the calendar until you can feel the sand between your toes. The Card also rewards residents with discounts off dining, beauty treatments, shopping and sporting activities.
Studio apartments are priced from 92,000 euros and two bedroom apartments are priced from 227,000 euros. The Exchange Bond set-up fee is 6,000 euros on studio apartments, 15,000 euros on middle two bedroom apartments and 18,000 euros on corner units. Completion is expected for 2010 when 6% costs will be due. 100% finance is guaranteed subject to status coupled with a five year 7% rental guarantee.
Phase II of Palm View Resort is set to launch shortly and demand for the frontline beach detached villas is expected to be significant - phase I villas sold out in literally days. Villas will require just 40,000 euros using the Exchange Bond and carry the same rental guarantee.
For more information, visit gem-estates.com