Capitalise on Cape Verde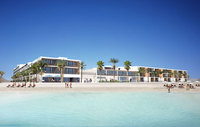 As the closest tropical destination to the UK and Ireland, Cape Verde is fast becoming a firm favourite amongst European investors. The archipelago is attracting significant interest from experienced as well as first time emerging property market investors who are looking to combine good returns with an idyllic holiday retreat. For those looking for a prime investment opportunity Sands Developments Cape Verde is currently marketing Creola Sands on Boa Vista.
As with many emerging property markets, a steadily developing tourist industry is integral to success and the Cape Verde Islands make no exception. Home to mile upon mile of sandy tropical beaches and regarded as the European Caribbean which offers an ideal 12 month tourist season, it is clear to see why tourist figures have trebled to over 330,000 since 2001.
Although Cape Verde is still a developing market it represents the best investment opportunity in the overseas market anyone is likely to find in 2008 due to its expanding economy, political stability and growing infrastructure. Not to mention the excellent value-for-money properties on the market, which promise excellent projected returns.
For private investors, this represents a compelling case for property purchases, which will offer short to long-term capital appreciation, high rental yields as well as a lifestyle improvement choice. In short, it offers all kinds of investors a reason to buy Cape Verde property whatever their requirements.
The beauty of investment on these islands is the fact that Cape Verde is being developed from the ground up as it is starting from a virtual 'blank canvas' and presents outstanding scope for future growth. Over the next 12 months a steady new flow of excellent up and coming beachfront projects will drastically increase investors' choice.
Katy Katani, Sales and Marketing Director for Sands Developments Cape Verde, the largest and most esteemed property developer on the island comments: "Beach front developments are the ideal investment choice and will always be in high demand for years to come, particularly as one of Cape Verde's main selling points is its great attraction as a beach lover's paradise for both property purchasers and tourists alike."
Sands Developments Cape Verde, is catering to this market and offers the investor a chance to capitalise early on the expected gains offered from buying a beachfront property on Cape Verde with its exclusive Creola Sands development located on Cabral Beach, Boa Vista Island.
Boavista is an island of sand dunes, long white beaches, and crystal clear emerald waters. It also presents an interesting mix of rolling mountain ranges, rugged interiors and the occasional oasis and is regarded as one of Cape Verde's most attractive islands boasting the best beaches.
The Creola Sands Resort is located on Cabral Beach in a superb beachfront setting with views of the Atlantic Ocean and close to town of Sal Rei, just 7 km from the international airport. This spectacular resort benefits from excellent facilities including two outdoor swimming pools, restaurant, a bar and entertainment areas, a gymnasium, a doctors office, an internet café, a mini-market, terraces overlooking colourful gardens, a children's park and a children's entertainment area. The scheme features over 350 luxury contemporary studios, apartments and duplexes and offers the exclusivity of living in a unique and unrivalled natural setting. Prices start from €74,000 for a studio up to €355,000 for a large duplex and are being offered for sale with a 5% rental guarantee for two years.
For further information on Sands Developments Cape Verde visit sands-capeverde.com