Vila Jardins do Oceano – Buy now pay nothing until completion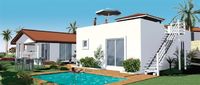 The award-winning development of Vila Jardins do Oceano, just 40 two and three bedroom villas in an idyllic beachfront location, has been quick to sell due to a clever combination of high quality and low pricing. With just a handful of homes remaining, the developer has acknowledged prevailing economic conditions and offered some enticing incentives for buyers. For risk-free capital growth, look no further…
Andy Welland, Managing Director of GEM Estates, comments, "Vila Jardins do Oceano is one of the only resorts on the entire Cape Verdean archipelago where you can pick up a two bedroom villa within 60 metres of the beach for less than 300,000 euros. Compared with neighbouring Santiago-based projects, price per square metre here is around 10% less. Looking across to other islands at developments where even a single brick is yet to be laid, Vila Jardins do Oceano comes in at 33 to 50% less expensive. Reassuringly no corners have been cut in order to arrive at these prices. In fact, market-leading construction techniques make the villas the most comfortable homes in Cape Verde. Combine this with a thriving rental market and steady capital appreciation and it all adds up to a sound investment."
With construction in full swing, the resort is scheduled to complete in August 2009 and become available for paying guests. The development is backed by the Exchange Bond therefore buyers will be able to secure one of the last remaining units with a small 3,000 euro deposit and then have nothing further to pay until the completion date – but of course locking themselves in at today's below market value price. The developer is also offering 5,000 euro cash-back when owners furnish their homes from a choice of packages and a free Toshiba branded air-conditioning upgrade. But it doesn't stop there.
Thanks to the participation of a respected Cape Verdean hotel chain, Vila Jardins do Oceano is able to guarantee an uncapped rental income of 3% per annum for the first two years from completion. Beyond this point yields are expected to be high by virtue of the fact that Santiago is already served by direct flights to Europe, including Paris and Lisbon, and the nation's first finished golf course, the Nick Faldo Estrela Santiago, is set for a 2010 opening thus attracting the lucrative golfing market. The Island's hotels already run at a healthy 70% occupancy but with tourist arrivals soaring year-on-year, demands on short-term rental accommodation are high – great news for owners at Vila Jardins do Oceano. Lastly, mortgage arrangement and legal fees associated with the purchase will be paid for, regardless of your choice of solicitor.
Tucked around a sheltered private cove, which will receive a layer of white sand to cover the existing volcanic, Vila Jardin do Oceano's two and three bedroom villas face south and thanks to their staggered arrangement on a gentle slope, each has unhindered sea views. On private plots of between 385 and 500m² with a fresh water swimming pool apiece, the villas (130m² for two bedrooms and 180m² for three) are tastefully decorated and equipped with all appliances whilst on-site amenities are comprehensive for what is essentially a boutique resort. Two tennis courts, a bar, restaurant and the showpiece, an iconic infinity swimming pool – Cape Verde's first. The resort is a three minute stroll from Cidade Velha, planned UNESCO world heritage site and vintage colonial port.
Vila Jardins do Oceano observes the strictest planning controls with build density remaining below 20% and just a single storey – excepting sunny roof terraces. The resort's construction adopts the ICF (Insulated Concrete Forms) technique developed in Hawaii which creates an energy-efficient home offering even temperature distribution, fire resistance, sound resistance and hugely reduced electricity bills. Extra thick walls have a cooling effect and air-conditioning use is literally slashed in half. Vila Jardins do Oceano also has an unlimited water supply via an ecologically sound dual desalinization plant.
Vila Jardins do Oceano is priced from 299,999 euros for a two bedroom villa within 60 metres of the beach. Pay just 3,000 euros now with nothing more until completion in August 2009 where an uncapped 3% rental guarantee kicks in for two years. Personal use is permitted for a generous 12 weeks per year. Up to 75% mortgages are available through a Portuguese bank subject to status.
For more information, visit gem-estates.com