Top 10 reasons to buy on Boa Vista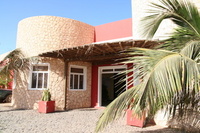 Boa Vista is one of ten islands that make up the archipelago of Cape Verde which lies 500 miles off the west coast of Africa. Dubbed 'the sand dune isle' and boasting 34 miles (55 km) of powder white sandy beaches, this largely undiscovered paradise offers barefoot simplicity not seen this close to the UK for decades. Right at the heart of the island's best beach, Praia de Chaves, is the very successful boutique hotel Parque das Dunas.
Parque das Dunas has been running successfully for 12 years and building on this success have undertaken an ambitious plan to enhance the boutique hotel by creating more facilities and a number of beach apartments and beach houses that have just gone on sale from €100,000.
Work is well underway and scheduled for completion at the end of the year, and with the main hotel already running, Boa Vista has a proven track record as a popular holiday destination.
Top ten reasons to buy a slice of island life:
1. Boa Vista has direct flights from London (five and half hours flying time) and Manchester
2. There is no jet lag as Cape Verde is just one hour behind of GMT
3. The hotel and properties are situated on Praia de Chaves, a glorious seven mile long powder white-sand beach, such is its scale it could never feel crowded
4. The annual temperatures range from 24c – 30c making this a year-round holiday destination
5. Boa Vista is a watersport lovers paradise with surfing, wind-surfing, kite-surfing, snorkelling, fishing, sea kayaking and scuba diving
6. The hotel's facilities include two swimming pools, two restaurants, pool bar, mini-supermarket, tennis court, spa and wi-fi
7. The economy is predicted to grow 3 - 6% year-on-year and property, whilst not a given, is also predicted to rise strongly in value.
8. Cape Verde is a non-Eurozone but the currency is linked to the Euro, making it very stable
9. No CGT (Capital Gains Tax) unless the value of the property rises more than 30% and then a flat rate of only 3% is applicable
10. Underdeveloped, quiet beaches, friendly locals and a very relaxed way of life
Be one of the first to purchase a beach apartment or beach house at the Parque das Dunas Village (parquedasdunas.com) and, with prices starting from as little as £85,000 (€100,000) for a one bedroom property and £135,000 (€160,000) for a two bedroom property, this is a rare opportunity to buy into an underdeveloped island that is fast becoming the next best holiday destination.