Pillow talk with a difference for Katie Holmes and Tom Cruise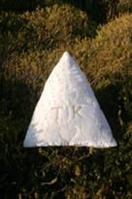 Aside from a $20m aeroplane and a Vacheron Constantin watch reputed to have been the wedding gifts bestowed on one another by Tom Cruise and Katie Holmes, among the more unusual presents was a beautifully crafted handmade wedding pillow.
Commissioned by a close friend of the couple for their special day, the pillow was designed and created by Cornwall-based professional dyer and embroiderer, Vivien Prideaux, who will be making her exhibition debut this Spring at the Country Living Magazine's Spring Fair in London (14-18 March 2007).
With 28 years of dyeing, embroidering, tutoring, lecturing and writing to her name, Vivien's passion and commitment to textiles and colour has taken her all over the world, from Russia and Siberia to India and Japan. She talks about the unusual request which brought about the 'KT' wedding pillow.
"I received a letter in the post back in November 2006 signed by a 'Great Aunt Jessica', requesting that I make one of my wedding 'kooshns' for the newlyweds, along with an international money order for payment."
Vivien promptly set to work on the Kooshn, which involved three and a half days of intensive dyeing, washing, drying, stitching, pleating, clamping and embroidering. It also involved an unusual process known as 'Shibori', the inventive art of Japanese shaped resist dyeing.
"I worked on the fabric before I dyed it," continues Vivien. "Generally it takes about a day to prepare the fabric for indigo dyeing, and then it's a case of dyeing it five to six times to achieve the right depth of blue.
"I dyed Katie and Tom's kooshn in tea following the Shibori process, then treated it to give the velvet a lacy appearance. More washing, drying and further treatment finally brought about precisely the look I was trying to create for the top fabric – champagne bubbles - it was gorgeous!"
The champagne bubbles velvet was laid over gold lurex fabric backed by wadding and cotton fabric, soon followed by the surface embroidery of hearts, giving a deep quilted effect. "I didn't really know what to do for the embroidery," she confesses. "It's strange when you think about your product being held and hugged by people on the covers of magazines! In the end I opted for their initials in a simple but classic design, using metallic gold machine thread."
For the inside, Vivien used a cambric pillow filled with goose down. "When it was finished I packaged it up and sent it off to Hollywood," she explains.
Vivien was delighted to have been asked to make Katie and Tom's kooshn, but, being no stranger to celebrity commissions, was far from star struck by the experience. "I've designed individual commissions, one-off items bought by private collectors, members of the Royal Family and 'Fabindia', the ethical Indian clothing company.
And if it's quirky you're after, Vivien's your artist. Three years ago she dyed an entire flock of sheep multi-coloured, as part of an installation called 'Art in the 'Lambscape", an exhibition celebrating the 30th anniversary of the Cornwall Craft Association.
Amid the picturesque setting of the historic town of Fowey where she lives, the artist is now focusing on creating beautiful pieces for the collection she will launch at the Country Living Fair in London in March, also renowned as a favourite hang out for many a London celebrity - previous visitors have included Helena Bonham Carter and Kate Garraway. "I'm taking a new range of hand dyed, decorative and domestic textiles incorporating natural, sustainable and synthetic dyes, shibori resists, printing and embroidery. The collection will include everything from bags and 'dragon' coats in linens and kimono silks, to cushions and framed art works in velvets, cashmere and hand woven hemp. Naturally I shall also be taking commissions for embroidered wedding kooshns!"
The Country Living Magazine Spring Fair takes place from 14 – 18 March 2007 at the Business Design Centre, 52 Upper Street, Islington, London, N1. For further information and to book tickets, call 08701 261800 or log onto countrylivingfair.com.
Tickets purchased on the door are priced at adult: £14.00, Gala Evening: £12.00, Gala & Sunday Shop: £17.00, child (5-16): £7.50, OAP: £10.50 and under 5s: free. Tickets purchased in advance are priced at adult: £10.50, Country Living subscriber adult: £9.50, Gala Evening: £10.50, Gala & Sunday Shop £14.50, child (5-16): £6.00, OAP: N/A and under 5s: free.