Monsoon Home launches children's bedding line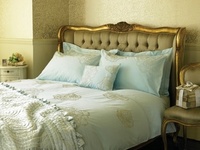 For spring / summer Monsoon Home has launched just one new colourway of a popular existing design, leaving centre-stage for the launch of a collection of children's bed linen designs. The designs have all the sophistication and charm you would expect from Monsoon – with pretty cushions and knitted throws that accessorise the bed linen perfectly.
Celeste Blue – following the successful Celeste design in pink, Monsoon Home has created Celeste in a duck egg blue colour with gold filigree embroidery and a pleated chiffon trim on 300 thread count cotton sateen.
Prices: double duvet cover £80, standard pillowcase £17, boudoir cushion (30x40cm) £25, and Satin Ruffle throw (240x260cm) £125 and cushion (40x40cm) £25, both available in duck egg, pink or gold.
Introducing Monsoon Children
Lotti – a funky floral girl's design with large graphic poppies in yellow, pink and white on a duck egg blue background. A multicoloured, large-scale zigzag design on the reverse (taken from a Monsoon clothing design) and a ruffle trimmed edge give the design real pizazz!
Prices: single duvet set £30, Emily cushion (40x40cm) £25.
Millie – a printed and embellished bed linen in shades of red. Ruffle pleats and gross grain ribbon in turquoise, ruby and burnt orange with overlaid running stitch in contrasting colours run down the borders of the duvet cover and pillowcase giving this eclectic design a really sophisticated feel.
Prices: single duvet set £45, Millie velvet embellished cushion (40x40cm) £20.
Rosie –embellished bed linen combining hand-crafted butterflies and floral trails on a light and dark pink background, finished with a soft crochet edge trim.
Prices: single duvet set £45, Rosie knitted throw (130x180cm) £45, and Rosie knitted cushion (40x40cm) £15, Emily cushion (40x40cm) £15, and Mia cushion (40x40cm) £25.
Trucks – embroidered and appliqué trucks adorn this boy's bed linen in 100% cotton. A great fun design!
Prices: single duvet set £45, knitted throw (150x200cm) £30 and knitted cushion (40x40cm) £15.
The range is available online at Monsoon.co.uk, House of Fraser; Debenhams; Bentalls, Fenwick and selected UK retailers.