The beauty of sleep with Bensons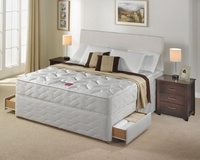 National Love Your Bed Week runs from 4 - 10 August, and is a celebration of how a good bed will not only give you a better night's sleep - but contribute to a more beautiful you too. Bensons for Beds is encouraging people to love their beds and the well-earned beauty sleep to be gained from sleeping in a comfortable and supportive new bed.
Says Bensons sleep expert, Simon Williams:
"In order to stay fit and healthy we need to eat a balanced diet and exercise but the importance of sleep is often underestimated. A good night's sleep in a good quality bed can help make you feel and look better."
Here are just a few reasons why sleep can help you to stay more beautiful:
- Research from the University of Chicago found skipping beauty sleep will make you old. Sleeping for four hours a night for less than a week hits the body's ability to process and store carbohydrates and regulate hormone levels. These changes mimic many of the hallmarks of advanced ageing.
- Sleep is slimming. Moisture loss while sleeping adds up to as much as a half pint from the average adult; more in hot weather or during illness. A lot of that moisture ends up in the mattress - hence the need to change your mattress every eight to ten years.
- The UK population has grown upward and outward in the past 30 years and so should our bed requirements, with women gaining 1.05kg in weight and 1.75cm in height and men growing an extra 3cm too, it's time to invest in a bigger bed.
- Ergonomic studies have also shown that couples sleep better in a bigger bed yet are often reluctant to buy a larger than the standard 135cm/4ft6in. Says Simon: "Maybe it's time to go large and choose a king size or super king size bed.
Self-confessed sleeping beauties include Hollywood movie star Penelope
Cruz who says: "Sleep is the best thing for happiness, beauty, everything."
Or as model Yasmin Le Bon once famously said: "You can party as much as you like but lack of sleep makes you old!"
Bensons for Beds is Britain's biggest bed specialist, stocking a wide range of mattresses, bedsteads and divans, including the exclusive to Bensons Kingsdown range and a new Tots to Teens range of beds and bedroom furniture for children. They also stock a range of exclusive Silentnight beds, including the New York, Casablanca, Ashleigh and Memoire plus specially designed mattresses for bedframes.