Blooming marvellous nurseries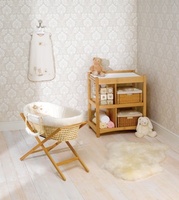 The latest Autumn Winter nursery collection from Blooming Marvellous combines a fantastic selection of toys, furniture and accessories to ensure your baby's first years are spent in comfort and style. With key designs combining the best features and finest materials the collection is created so that your child's belongings can become accessories to your home, blending beautifully into your surroundings.
Traditional toys take a modern twist with luxury fabrics and eclectic designs, and accessories are created to combine function with style.
Cashmere and organic cotton guarantee only the finest materials are used for your baby's toys and bedding, and furniture sets have a stylish boutique feel.
Practical, functional and fun pieces including key brands and innovative new designs ensure the collection provides a wide range of choice for new parents and well wishers looking for beautiful and useful gifts.
For more information, log on to Bloomingmarvellous.co.uk.