Make your bedroom a haven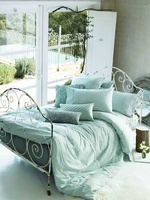 AURA Haven makes a real statement with its new collection of natural, relaxing bedlinen that merges simple design with sophisticated texture. The Australian brand's passionate designers have created the collection in response to a growing need for a relaxing bedroom sanctuary, a place to unwind and reflect. Only the purest and most natural cotton, linen blends and silk are used with subtle finishes achieved through textures of pleating and embroidery. Using calming and natural colours AURA Haven bedlinen is simply stunning with fabrics that are as beautiful to the touch as to the eye.
Classic, timeless and sophisticated, the Aura Haven designs ensure that every bedroom can be effortlessly transformed into an alluring, peaceful retreat this season.
The soft calming colours of the Haven range include vanilla creams, marshmallow whites, linen, moonbeam, waterfall blues and elm green.
Aura Haven is available at selected John Lewis stores. Visit Auralifestyle.com.au for more information.
Prices start from £10 for a pillowcase and £65 for a double quilt cover.