Update your bedroom on a budget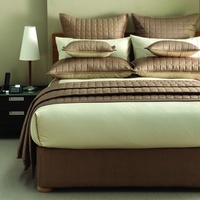 The credit crunch is making life tough for a lot of people; everything is being affected, from mortgage payments to the weekly shopping budget. We still like the nice things in life but realise that we have to be a bit more careful with what we spend our money on - this includes home improvements. Nevertheless, little enhancements can be made to improve the look of a room without having to break the bank.
Boutique by Linen House can help with suggestions to improve the bedroom with little disruption and most importantly little cost:
New Bedlinen - A new set of bedlinen can brighten up and revive a room without the cost of decorating throughout. Go for cream or white bedlinen for the summer to create a fresh and relaxing atmosphere and take away the stresses of the day
Throws – Throws are an easy way to update any bedroom. They can really give your room life and even bring in a whole new colour for an instant lift. Monochrome has been huge this season and with Boutique's black Sandringham throw this design statement can easily be achieved without a huge cost.
Cushions - Create a hotel look by treating yourself to new cushions for your bed. These can be lots of different textures and colours, the more the merrier. Just by bringing in a few more colours can transform the whole look of your bedroom and may inspire you to use that colour elsewhere in your room.
Siobhan King, Managing Director of Linen House said: "The bedroom is an important place in today's stressful life. It is the room we can escape to and unwind after a hard day. By updating our bedlinen or adding those finishing touches it can make the bedroom a lot more pleasant and give us a boost as soon as we walk through the door. Best of all this doesn't have to cost a lot of money."
Boutique by Linen House is available at House of Fraser nationwide.
For more information, log on to Linenhouseuk.com.