Create a sleep sanctuary for children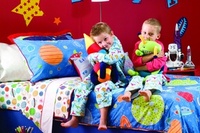 It's that time of year for children to go back to school. However, the children have run riot for the past six weeks, they've been allowed to stay up watching TV and visit they're friends during the week. All this means that children are as far from a routine as they can be. It's about the right time to start getting back into a routine to face the new term ahead.
Hiccups children's bedlinen has a few tips to help get the kids back into a regular pattern:
1. Get the children in a regular routine by going to bed at the same time every night, even at weekends. This will ensure that children fall asleep straight away and they'll be no complaints of not being tired.
2. Make sure that your children's room is clean and comfortable. Messiness in a room can increase anxiousness and children may not relax before going to sleep.
3. Let your children relax before going to bed by reading them a story. Try not to let them watch TV especially not in the bedroom. This will increase brain activity instead of letting the mind relax.
4. Ensure bedding is clean and comfortable. Treating your children to new bedding will make them want to go to bed early every night. Try the new childrens bedline range by Hiccups, where all the designs have playful characters and colours that your children will love.
5. Start getting into good habits and get organised. Make sure that lunch is ready the night before and that sports kits are washed and packed. That way there is no rushing about in the morning and feeling on edge.
Getting children into a routine and creating a sleep sanctuary is so important for discovering children's creativity and exploring their imagination. If children wake up fresh and ready to face the day their school work will thrive for the new school year.
Hiccups childrens bedlinen is available in Debenhams stores nationwide. Prices start at £25 for a single duvet cover.