Bring the hotel home with you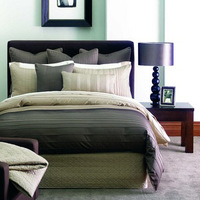 Do you ever yearn for that 'hotel' feeling when you go home at night? Going back to your own bed never feels quite as glamorous as sleeping in a bed at a fine hotel. Well, with the new Stanford design by Boutique this desire can become a reality.
A classic mix of chocolate and taupe. This sophisticated design has pintuck stitch detailing to give a tailored look. A generous 300 threads per 10 square centimetres – the epitome of Boutique style! Combine with the new Modena quilted accessories to make a statement in any room.
Prices: Double Quilt Cover £90, Cuffed Pillowcase £15
For further information visit Linenhouseuk.com.