Sleep easier – Ditch the dust mites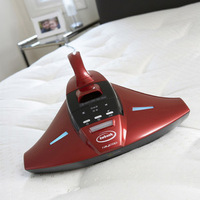 Anyone horrified by The One Show's recent report on dust mites and the negative effects they can have on sleep and wellbeing (Wednesday 24 September) will be relieved to know that a simple solution is now at hand.
New from Ewbank is the Raycop, a hand held device that launches a triple action attack to help eradicate dust mites from beds, mattresses, cots, duvets and pillows. The world's first anti-bacterial vacuum, it also kills 99.9% of bacteria, including MRSA and E.Coli.
Boasting millions of dust mites and their accumulated faeces, rather than being an aid to a good night's sleep, the average Brit's bed is the root of many restless nights, plus the cause of symptoms such as red, itchy eyes, runny noses and difficulty breathing.
Want to sleep easier without the huge expense of getting the professionals in? Then the Raycop, available at Lakeland, John Lewis and other good retailers for £149.99, is the perfect answer. Awarded Allergy UK's coveted British Allergy Foundation Seal of Approval, it is scientifically proven to remove those nasties that might disturb your sleep.
This clever machine starts with a UVC sterilising lamp; a vibrating pad that agitates the surface, releasing the dust mites that are hooked within it; and finally a vacuum with a two stage Micro Allergy Filtration system that efficiently removes the dust mites and their faeces and prevents the allergens being released back into the atmosphere.
Quick and easy to use - on old mattresses - it is recommended that the Raycop is used daily for the first week, before reverting to a once a month treatment to keep the dust mites at bay.
In addition, sufferers may also benefit from trying the following:-
1) Regularly wash bedding at 60°C so that any mites living within the sheets will be killed.
2) Do not make your bed as soon as you get up in the morning – allow it to air a little first.
3) Dust mites love warm, humid conditions, so regular open your bedroom windows to allow fresh air to circulate.
4) Change your pillows frequently.
For more information on Raycop, visit Raycop.co.uk.