Elegant simplicity from Limelight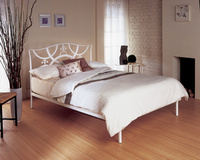 Limelight has excelled itself once again to combine traditional beauty with contemporary comfort at an affordable price. The new Vega bedstead comes in a bright, fresh white-gloss.
With a sprung-slatted base for ultimate comfort, the Vega has a timeless appeal. Its white-gloss finish enables the Vega to complement any interior bedroom décor. The stylish clean lines and shapes of the headboard blend perfectly with the minimalistic look of the bedstead.
The Vega is available is sizes 3ft (90cm), 4ft (120cm), 4ft 6in (140cm) and 5ft (155cm). The bedstead retails at £199 for the 4ft 6in (140cm) model.
For more information please contact Limelight beds, visit limelightbeds.co.uk