Limelight has lift-off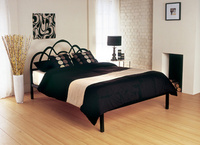 Limelight, once again, brings imagination and creativity to the bedroom with the retro styling of the Apollo bedstead. The sleek and simple black design will complement every bedroom decor.
Carefully crafted for both maximum comfort and style, the Apollo is bursting with panache. The sprung-slatted base is comfortable and practical while the stylish headboard creates a retro look. This bedstead is the perfect addition to any bedroom, whether you are looking for modern or classical, minimalistic or creative.
Available in three different sizes – 4ft (120cm), 4ft 6in (140cm), 5ft (155cm) – the Apollo retails at £199 for the 4ft 6in model.
For further information, visit limelightbeds.co.uk