De-clutter your bedroom wardrobe for autumn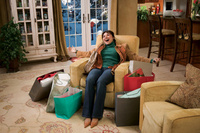 With the slight chill of autumn in the air, now is the perfect time to clear out your wardrobe and make space for your new season buys, boots and winter woollies. If the thought of preparing your wardrobe fills you with dread, fear not, the experts at the UK's leading domestic cleaning company, Merry Maids, have put together some top tips to make sure your wardrobe is ready for the season ahead – a great excuse to hit the shops.
Be ruthless
Donate clothes you haven't worn in over a year to charity. If you find some items too hard to part with, bundle them up and store them away. If you haven't missed them after two seasons, they're already packaged for giving away.
'Merchandise' your wardrobe like a professional
Arrange your wardrobe so similar items hang together. When shorter items, like shirts are grouped together you may have space underneath for a shoe rack or even a small chest of drawers.
Freshen up and economise
Reduce cleaning bills by airing an outfit for a few hours after wearing it instead of popping it right back in the wardrobe or washing. Clothes will stay fresher for longer and you should notice a difference in your bills.
Maximise space
Check out the space above the hanging rails in your wardrobe, as there may be room for an additional shelf for out of season shoes, bags or other items. You can use the back of your wardrobe door for shelf supports. Extra hooks can hold robes, or you could use the space for a tie or belt rack.
Get the professionals in
If all else fails you can rely on Merry Maids to get your home clutter free and clean. They are all professionally trained and have the knowledge and ability to make your house sparkle. There are over 100 Merry Maids throughout the UK and clients can choose from a weekly, fortnightly or monthly clean. For more information about Merry Maids visit merrymaids.co.uk