Between the sheets with Edmond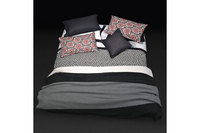 Edmond Frette, purveyors of fine bed linens, boasts a gorgeous collection of fine cottons, linens and soft cashmeres. Exquisite design, colour and textures are de rigeur. Experience the home décor, bathroom and nightwear for both of you.
Cut from the same luxurious cloth as Frette's signature Collection, Edmond has a personality all of its own. Forget formality, Edmond is about relaxed glamour. Think black and white geometrics, animal prints, la dolce vita.
Mix and match Edmond's prints to create your own private playground. The possibilities are endless, the mood ever-changing.
Bedsets from £200
For more information, visit frette.com