British Airways flies direct to Sharm El Sheikh this Autumn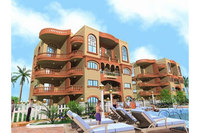 Sharm El Sheikh is synonymous with diving and year round sunshine, this popular Egyptian resort nestled on the Red Sea Coast is to become even more accessible to UK visitors come 26th October as British Airways (BA) launches thrice-weekly direct flights from London Gatwick to the Sharm El Sheikh International Airport.
Steve Worboys, MD of Experience International property agency comments, "More and more people are choosing to visit non-Eurozone destinations for their holidays due to the weak Pound against the Euro, this same trend is translating into property sales with buyers looking to maximize their investments. Egypt offers the same first class amenities as other more traditional European destinations plus it has the added bonus of some of the best diving in the world for water sports enthusiasts. The contrast between the coastal resorts such as Sharm El Sheikh and the desert is awesome, many visitors head into the desert by camel to explore the Bedouin villages and the sand dunes by day and then soak up the buzzing atmosphere in bars and restaurants by the beach by night; it offers something for everyone."
Experience International is offering a new selection of properties for sale in Sharm El Sheikh including the Maraqia Resort, where the savvy investor can purchase a studio, one, two bedroom apartment or duplex 3 bedroom loft apartment from as little as £19,600. All the apartments enjoy views over the pool of which there are 3 in total on the development and ground floor apartments come with a private garden. Investors benefit from no capital gains or inheritance tax and Egypt has a very low cost of living.
To book flights to Sharm El Sheikh visit ba.com and to enquire about your home in the Egyptian sun, visit sharm-el-sheikh-property.co.uk.