Mereway Kitchens gets into shape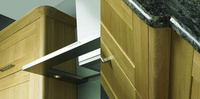 British manufacturer Mereway Kitchens have introduced two new curved products into their offering this autumn. This expansion sees the introduction of brand new curved cornice blocks and pilasters for base and wall units to complement their popular Lincoln, Virginia and Bromley ranges.
The curved cornice block has been introduced to allow the smooth jointing of the cornice. It enhances the curved pilaster by creating a soft curve on an external 90 º corner using the same profile and is available as either handed left or right.
The new curved pilaster sits with either a plain or T&G side panel or allows for varying unit depths to create interesting shapes on unit runs. The curved pilasters are available in 50mm wide and a variety of heights to suit base or wall units.
Teamed with matching curved doors, curved plinth, light baffle and cornice proves these ranges offer an ergonomically elegant look that's practical, whilst lending even more design possibilities to the ranges with flowing curved designs that continue to be the number one choice for style conscious homeowners.
Perfect for the open plan kitchen, curves show off Virginia, Lincoln or Bromley to their full potential. Kitchens are increasingly designed as open spaces to cook, socialise, interact and eat with friends and family and curves create the ideal ergonomic working space and sociable seating area.
"The curved pilaster and cornice block will further contribute to the success of these already popular doors styles." comments Ginette Crowther Marketing Manager for Mereway Kitchens "Increasingly consumers are seeking out organic curves over straight edges and these new items are a natural addition to the offering."
For more details on Mereway Kitchens' extensive ranges, visit merewaykitchens.co.uk.