New airport terminal set to boost interest in Hurghada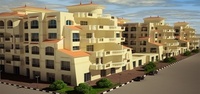 The Red Sea resort of Hurghada in Egypt is set for a boost as plans for a new terminal at the international airport are announced.
The Civil Aviation Ministry has signed contracts with a Saudi Arabian development group to construct the new terminal which will increase capacity from some 6.7 million to 7.5 million passengers annually. Located 5km from downtown Hurghada, the new terminal will cover 92,000 sq.m and cost of construction is estimated at 587 million Egyptian Pounds (approx £66 million). Completion is scheduled for 2011.
With Hurghada international airport the primary gateway to the popular holiday destinations of the Red Sea coast the additional capacity of the new terminal can only spell good news for tourism and in turn the second property market. As Steven Worboys, MD of international property experts, Experience International, comments:
"Interest in the Hurghada area as a location for a second property ownership has been strong, especially as the region has developed into an established tourism destination in recent years. The announcement of the new terminal is encouraging for property owners who will enjoy greater access to their own homes as well as capitalising on the opportunity to generate rental income from additional visitors to the area."
For those interested in owning a second property with guaranteed rental income in Hurghada then the Florenza Khasmin development, located only 15 minutes from the international airport, is the right choice. With studios apartments available from only £21,000 and 6% guaranteed rental income and up to 4 weeks personal usage available investors had better move fast before the 15% price increase due at the beginning of February 2010.
There has never been a better time to visit Egypt with the Post Office's latest report (Jan 2010) stating that holiday makers should consider making a visit to the non euro zone country, only five hours flying time from the UK, to take advantage of the exchange rate. Calculating which currencies have moved most in favour against sterling over the last year, Egypt was placed in the top 3 with the Pound strengthening against the Egyptian pound by 14%.
For more information, visit experience-international.com/country/egypt.