Paragliders discover Pipa – Brazil's hippest hang-out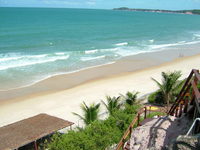 Famed for its reliable weather, superb flying conditions and welcoming locals, Pipa in northeast Brazil is emerging as a paragliding paradise. Particularly whilst Europe is under the cloak of winter, crowds of brightly coloured fabric wings dot the skyline taking in the stunning coastal scenery as they fly.

Brazil is no stranger to paragliding and regularly hosts the America leg of the Paragliding World Cup which this year runs from 3 to 10 April in Pocos de Caldas in the southwestern state of Minas Gerais. Over 100 pilots from across the globe gather together to catch the thermals and make their way to a finish line some 25 or 40 miles away. Pipa is proving to be a popular practice ground for World Cup competitors, as well as for amateurs keen to hit the town's beaches and bars after a hot day in the skies.

Ideally suited to the paragliding fraternity is Pipa Privilege, a boutique resort enjoying an absolutely beachfront location with direct access to the sands of spectacular Cacimbinhas Beach below. Nestled between lively Pipa (4km) and laid-back Tibau do Sul (2km), this stretch of ocean-front falls almost entirely under full environmental protection including a huge Ecological Sanctuary. But, planning permission has been achieved as Pipa Privilege occupies the site of a former boutique hotel – a major coup.

If you fancy some free time out of the harness with your feet closer to the ground, you'll soon discover that there's no shortage of things to do in this stunning north-east Brazilian location. By day enjoy the beaches, swimming with the native dolphin population, surfing and windsurfing in the nearby lagoon, buggy-riding, horse-riding, shopping in Pipa's designer boutiques...the list goes on. By night, sit out and watch the stars or eat in one of the area's famously good restaurants before heading to a bar, disco or beach party with live Brazilian music.

Comprising just 14 one or two bedroom apartments (purchasers can still choose the final layout) Pipa Privilege looks straight out to sea and is set on 6,000m2 of manicured tropical gardens. The properties measure either 50m2 internally with a 20m2 private terrace, ideal for holiday use, or 83m² internally with a 25m² terrace. The finish will be contemporary and extremely high quality comprising the finest hardwoods set against polished concrete in keeping with an upmarket designer hotel. All furniture and fittings are included in the price such as plasma TVs and air-conditioning.

This Belgian/Brazilian owned development comes complete with full hotel services and rental management for a profitable, hands-free investment in a hugely desirable location with all the added value that comes with being front-line beach and surrounded by protected nature. Net income based on 75% occupation is projected at around 8% a year.

With the opening of Natal's new airport in 2012, which will have the eventual capacity for 40 million passengers a year, it is easy to see how much more popular Natal's most exclusive resort towns will become over the years leading up to the 2014 FIFA World Cup and the 2016 Olympics.

Reserve one of the few remaining units with a 3,000 euro deposit and payment staged throughout construction, which is already well underway and will complete in June this year, ready for the European summer season. Prices from 164,000 euros (fixed in euros) for a fully furnished, contemporary one or two bedroom beachfront apartment.

Contact uv10 on info@uv10.com, visit uv10.com or Skype uv10-brazil.