A mirrored folding screen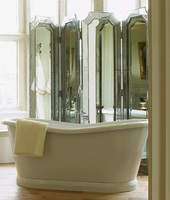 For a tranquil yet chic and funky addition to the bedroom, giving it the feel of a movie star's dressing room. Mirrored finishes create opulence at the same time as bouncing light around and these screens currently available at LASSCO Three Pigeons make the perfect partner to any interior.
A mirrored folding screen, comprising five hinged leave, each mirror framed leaf with an aged glass bevelled plate and a shaped top 214 cm high, 61 cm wide (width given = per leaf). £1,650.
All current stock is listed and illustrated at lassco.co.uk.