Bringing a riot of colour to bed time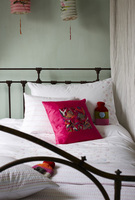 ALSO Home has launched a new range of colourful bedlinen and accessories. Each piece is lovingly hand-made using 100 per cent cotton, exceptionally soft and kind to young skin. Perfect for both boys and girls and suitable all year round, the new collection of fun and funky designs adds splashes of colour to brighten rooms for children of all ages.
Going Dotty
ALSO Home's embroidered duvet cover and pillowcase are scattered with embroidered dots and can be accessorised with ALSO Home's co-ordinating stripe cotton throw and cushion.
In the Pink
Fuchsia pink baskets are big enough for storage but stylish enough to take on a shopping trip with mum – any girl's dream bedroom accessory.
Cosy and Colourful
Designed to keep little feet warm in style when the nights get colder, ALSO Home's knitted hotties are made by hand. Each one is totally unique so children can either choose a design or leave ALSO Home to choose one for them, so that it's a surprise when they receive it.
For stockist enquiries and brochure requests, visit alsohome.com.