Create the ideal nursery with Dunelm Mill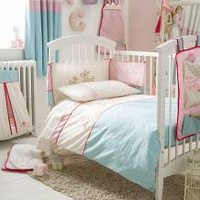 Every little girl and boy spends at least 50% to 80% of their average night dreaming, so it is important to create the perfect magical haven for them to drift off in. Help fire their imagination with soft shades and mythical creatures to encourage the perfect night's sleep.
Creating the ideal nursery is easier than you might think, just choose from Dunelm Mill's great selection of nursery bedding and add them to classic pieces of white furniture. With gender specific sets, there are the traditional pinks and blues as well as a timeless beige set for style loving mums. For little girls, there are two beautiful sets to choose from. Make a Wish is ideal for princesses, decorated with delicately embroided fairies and flowers, giving it a magical feel, while animal loving little lady's will love Daisy and Me. It is scattered with beautiful flowers, polka dots and Bambi characters, with a colourful mixture of aqua's and pinks.
For cheeky chaps, the fun Bunny Bed Linen will have your little one jumping out of bed in the morning after a great night's sleep and with its fabulously modern print; it will complement any modern nursery. Stylish boys can rest easy in the Benji and Friends bed linen with its natural teddy bear design and subtle shades of brown and beige this set will create a chic environment. All sets come in lovely soft fabrics, ideal for baby's comfort.
Dunelm Mill have ensured that all sets come with additional extras to create the perfect nursery. Choose from organisers, which are great for keeping the nursery tidy as well as being decorative, to nappy stackers, ideal for storing nappies.
As well as these sets, Dunelm Mill have a wide collection of baby blankets, sheets and toys. To view the whole collection please visit dunelm-mill.com.