Dive tourism boosts demand for property on Egypt's Red Sea coast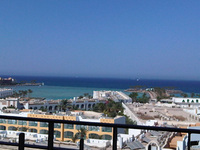 Egypt's Red Sea coast is regarded as one of the world's finest diving destinations and now with dive tourism identified by the World Tourism Organisation (UNWTO) as one of the fastest growing tourism sectors, demand for homes in this diving mecca is growing.
With crystal clear waters, sheltered bays, pristine coral reefs and protected areas such as Ras Mohammed National Park, 19 miles from Sharm El Sheikh, Egypt's Red Sea coast draws millions of divers each year from all over the world many of whom go to complete their PADI (Professional Association of Diving Instructors) training. It is estimated that 600,000 new PADI divers are certified each year, representing annual growth of 6%.
Steven Worboys, diving enthusiast and MD of Experience International, which markets over 5000 premium properties along the Red Sea coast, comments,
"The superior diving available along the Red Sea coastline plays a key role in the success of resorts such as Hurghada, Sharm el Sheikh and Sahl Hasheesh. Due to the unique marine environment it is possible to step from the sandy shores straight into pristine coral reefs. It is for this reason that more and more people are looking for a permanent base in the area, a second property which they can use at their leisure to pursue their hobby but also rent out to other diving aficionados."
This lifestyle appealed so greatly to Phil Cotton from Stoke-on-Trent who as a self-proclaimed "natural born diver and sun lover" fulfilled his lifetime dream of living and working by the sea when he purchased an apartment in the popular town of Hurghada.
Phil explains: "My wife and I knew that Egypt was the right country for us having visited Sharm el Sheikh and Taba in the past. The year round sunshine, the first class diving - the Red Sea is the biggest and best fish tank in the world! - welcoming local people, an established expatriate community and being not too far from the UK were all important factors to us. Added to this, we have seen property values rise over the last couple of years which was a key consideration seeing as this property is our personal pension."

Phil purchased a 2 bedroom luxury penthouse apartment in the superbly located Arabia Palace development with fantastic sea views from the balcony. As Phil says, "The main appeal of this area is that it is as close to the coast as you can really get, other than in the beach-fronted hotels with fantastic, uninterrupted sea views of the islands off the coast and no buildings being built any higher than ours to spoil the views."
The first phase is already complete with tenants in place but 1 bedroom apartments are still available from only £36,700; for more information, visit experience-international.com.