Affordable properties in Sharm El Sheikh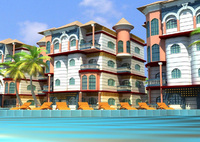 Egypt may indeed border the Mediterranean Sea but Ministers remain confident that the debt crisis which has affected other nearby European tourism destinations such as Greece has not negatively impacted the Egyptian economy.
Speaking to Reuters, Egypt's Tourism Minister, Zoheir Garrana, revealed that tourism revenues rose by 17.6% to $5.58 billion in the first half of 2010 with the aim of reaching £13 billion by fiscal year end.
Commenting on these latest figures, Steven Worboys, MD of the Egyptian property experts Experience International, remarks:
"The last 12 months have indeed been a trying time for Europe. The impact of the global recession has been felt in many countries including Spain, Portugal, Italy and Greece whose economies rely heavily on tourism.
"Holidaymakers are now focused on finding the best deals available, often looking further afield than usual to non euro zone countries such as Egypt where their money goes further. It's certainly encouraging to see that tourism revenues are up and that the sector is accounting for 11% of GDP equivalent to 1 in every 8 jobs according to Ministry figures."
Visitor arrivals to Egypt continue to increase with more than 7 million tourists to date in 2010 and 15 millions expected in total by December. The majority of visitors originate from Britain, Germany, France, Italy and Russia with the latter showing a 95% increase in Q1 2010.
Such sustained growth is fuelling further demand for quality accommodation in prime tourism hotspots across Egypt. Rich in history, culture and natural wonders, Egypt affords a myriad of attractions with the Red Sea coast in particular remaining popular with individuals, couples and families alike.
Properties in established Sharm El Sheikh town such as the new Monna Sharm development remain affordable and start from only £23,400 for a studio apartment with swimming pool views and communal roof terrace whilst freehold properties such as the studio, 1 and 2 bed apartments at Royal Beach can be purchased in the up and coming resort of Hurghada, easily accessible with direct flights from the UK.
For more information about buying property in Egypt, visit experience-international.com.