Sweeter dreams with Leekes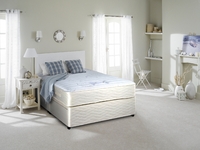 Getting a healthy night's sleep is crucial for our overall health and well-being, so as we approach National Love Your Bed Week (2nd – 8th August), Bedworth-based home store, Leekes, is encouraging us all to think about the amount of shut eye we do (or don't!) get and our all-important beds.

So if your pocket sprung divan has seen better days or you simply feel it's time to update your well worn mattress, now is the best time to invest, and with a range of leading brands to choose from including Silentnight, Hypnos and Rest Assured, Leekes, on Leicester Road is the place to go.

On average, we spend a staggering 25 years of our lives asleep which is why it's so important to have a good bed to ensure that in addition to achieving the optimum in comfort, we also maintain a healthy posture, which is something many of us don't consider.

Doug McCord, Store Manager at Leekes in Bedworth says, "Many of us take our beds for granted and rarely think about the positions we sleep in. That's why during National Love Your Bed week we're encouraging people to consider just how important the right bed is for a good night's sleep.

"Our in-store bed expert will be on hand to advise on the option that will best suit you – the right combination is key and can make all the difference between sleepless nights and sweet dreams. Here are my top tips for consideration before you make your new purchase."

TOP TIPS ON PURCHASING A NEW BED:

1. Always start by visiting a retailer that offers expert service, a comprehensive range of beds and a good after-sales service, such as Leekes.

2. Don't be embarrassed to try a selection before you buy – you can't really tell whether a bed will suit you until you have tried it out.

3. Take your time when choosing a bed. It takes at least five seconds to try out a bed properly. Take off your shoes and try lying on the bed in your normal sleeping position.

4. If you're buying a bed for two make sure you and your partner are there to try it out as your needs will be different.

5. Don't consider buying a bed or mattress in isolation, they need to work as a pair.

6. When buying a bed, size matters and big is definitely better! The larger the bed you can fit into your bedroom the more comfortable you will feel and it's worth remembering that your bed should be 4-6 inches longer than its tallest sleeper. A point worth noting is that a 5'0" bed has 17% more sleeping area than a standard 4'6" double bed.

7. The old adage that 'the harder the bed, the better' no longer stands. The correct support must account for a person's weight and build.

8. Consider your posture when sleeping. If the bed is too soft your body will slouch causing back pain and if it is too hard it will cause pain at pressure points such as the knees, hips and shoulders.

9. When choosing a bed consider fashion as well as function. Bedsteads are witnessing a huge resurgence in popularity due to the vast array of styles on offer. Choose from classic to contemporary styles in wood, metal and upholstered fabrics.

10. Remember that you get what you pay for. Cheaper beds and mattresses are made using inexpensive plastics and foams which do not allow air to circulate and can lead to a sweaty night's sleep! If you baulk at the initial cost try breaking it down by usage – a bed that costs £1,000 equates to less than 28p per night over a ten year period!

11. Once purchased and positioned in your room it is easy to forget about it – but don't! Read the care instructions and follow them. While most beds require turning once a month, state of the art materials mean this is not always the case.

12.And finally, get an early night!