El Gouna shines as Egyptian holiday hotspot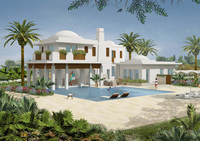 Despite the global downturn, it seems that Egypt remains one of the most sought-after holiday destinations with a 13% increase in the number of British visitors according to the latest data from the ONS's International Passenger Survey.
Comparing British passenger numbers to the same time last year, the UK Office for National Statistics revealed substantial growth in the number of all-inclusive holidays to Egypt booked by Britons.
The Red Sea resorts of Sharm el Sheikh and Hurghada remained popular but according to leading holiday rental site, HomeAway Holiday-Rentals, it is the area just north of Hurghada, El Gouna, which is shining as the Egyptian holiday hotspot with a 92% rise in booking enquiries so far in 2010 compared to the same period in 2009.
Steven Worboys, MD of Egypt property experts, Experience International, remarks, "El Gouna is a beautiful, up and coming resort on the Red Sea coast offering an unrivalled lifestyle. With 10km of golden sandy beaches, islands, crystal clear lagoons and a warm year round climate, it really is the perfect holiday destination."
El Gouna's popularity as an exclusive tourism destination is reflected in the high demand for rental accommodation. According to HomeAway Holiday-Rentals data, the average weekly rate for a 2 bedroom property in El Gouna is £480, considerably higher than nearby Hurghada at £270 and Sharm el Sheikh at £280, which should excite property owners.
One development in particular which is proving an investor's dream due to its premium location and 2 year rental guarantee is Ancient Sands Golf Resort. Set around an 18-hole Karl Litten designed championship golf course the spacious homes of Ancient sands afford stunning views of the mountains, golf course and crystal clear lagoon waters.
Highly popular, buildings 1 and 2 are already sold out however studio apartments are now available in building 5 from £117,000. There are a wide variety of amenities on-site including spa centre, Quintessentially concierge service, restaurants, bars, swimming pools, tennis academy and children's play area.
For more information about buying in the Egyptian holiday hotspot of El Gouna, visit experience-international.co.uk.