Silk bed linen from Gingerlily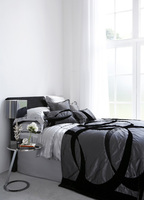 A successful day stems from a good night's sleep. Gingerlily silk bedding is proven to encourage a rejuvenating, restful night's sleep. A natural heat conductor, it adjusts to the individual's body temperature, as well as to the ambient temperature of the room. By trapping air next to your skin, silk helps keep you cosily warm in the winter while drawing heat away from the body in summer to keep you comfortably cool.
A naturally hypoallergenic fibre, silk is also resistant to dust mites making it ideal for allergy sufferers. Gingerlily's finest quality silk filled products have been tested and endorsed by the British Allergy Foundation (Allergy UK).
Gingerlily products are available throughout the UK and Ireland including Harrods, Selfridges and Heals. Full stockist details can be found online at gingerlily.co.uk.