Hodgson rides 2011 Kawasaki Ninja ZX-10R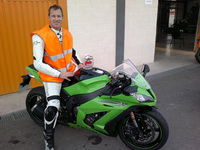 With huge interest from dealers, potential customers and race teams alike, the buzz surrounding the new 2011 Ninja ZX-10R was heightened recently when former British and World Superbike Champion, Neil Hodgson, rode the Ninja and other machines from the new Kawasaki range in Spain.
Acting as guide and track tutor for a 35 strong contingent of key UK dealers trying the new machinery on the Circuito Cartagena and local roads, Hodgson spent most time aboard the powerful superbike and came away impressed by the experience.
"Making sure the dealers had the best experience of the new bikes in a safe and controlled environment was my number one priority", said the 2000 BSB and 2003 WSB Champion. "That said, I also ensured I had maximum track time on the ZX-10R.
"The main thing that jumped out at me was how light the new bike was to ride. You often hear riders say a new litre bike feels like a 600 well this one feels like a 250! The change of direction was amazing.
"The power feels much smoother especially off the bottom, there is no big hit to unsettle the bike, just a smooth increase of power which is the feel all riders look for - this was a big surprise as normally when a manufacturer increases power you can easily lose that smooth feel."
On the roads local to the circuit, the Burnley born Isle of Man resident led familiarisation rides on both the new Z1000SX and the incoming Z750R commenting:
"The majority of my road time was onboard the Z1000SX. I was surprised how nimble and planted it was yet it still managed that comfy long-distance feel. I've no idea how Kawasaki have managed this; it's almost like two bikes in one.
"The Z750 was fun to ride and plenty fast enough for me on the roads. I was impressed with the overall feel of the bike and I was taken by its aggressive, cool looks".
With examples of all three machines now run in and registered ready for customer test rides in the UK, Sales and Marketing Manager for Kawasaki, Michael Johnstone, viewed the chance for key dealers to get up close and personal with the new season machinery as essential for sales success saying:
"Our goal was to excite and energise the dealers and give them the tools and on-bike experience to talk knowledgeably and enthusiastically about the 2011 range.
"Working alongside our track day partners Focused Events, plus our star guest rider, Neil Hodgson, we are confident that customers will receive the best possible 2011 product information from Kawasaki dealers."