Luxurious spring storage solution from Raines & Willow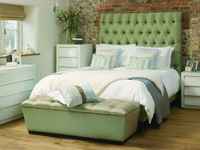 Spring is the time when most of us make a valiant effort to have a clean up! Everyone has to fess up to a little clutter around the home although we usually try to hide it when guests come round. Raines & Willow has the perfect storage solution, cleverly fusing practicality with style in the bedroom - the Ella Silk Buttoned Ottoman.
This fabulous deep buttoned ottoman makes a perfect end-of-bed bench, with concealed lift-top lid and almost cavernous storage space. Beautifully upholstered in 100% silk and beech wood feet stained to a rich walnut colour, the Ella Silk Buttoned Ottoman stylishly strikes the perfect balance between being functional and looking good.
Raines & Willow's stunning collection also includes elegant beds, mattresses, dressing tables, bedside cabinets, chests of drawers and mirrors. Featuring stunning and unusual materials, such as the dramatic reflective sheen of white glass furniture, the exquisite silver leaf and sumptuous Ella Silk, the collection is exclusively designed and manufactured in England.
For more information, visit rainesandwillow.co.uk.