easyJet passenger numbers rise to 50 million each year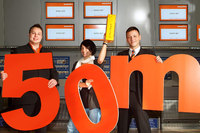 easyJet, Europe's leading low-fares airline, has reached an important milestone in its history as it now welcomes 50 million passengers each year.
The airline has seen phenomenal growth since it began operating in 1995, increasing in size from just two aircraft, with two routes and carrying 424,000 passengers in its first year.
Today easyJet is one of the largest airlines in Europe operating 196 aircraft on 552 routes, across 30 countries.
Increasingly both business and leisure travellers are choosing easyJet, because of our low-fares, convenient airports, and friendly on-board service.
To mark the milestone Laura Tabourin, who lives in London and regularly uses easyJet to visit her family in France, became easyJet's 50 millionth passenger this year*. She was travelling to Bordeaux from London Luton Airport and was presented with a bottle of champagne, and given a flight voucher for two people to travel anywhere on our network.
easyJet's Chief Executive Carolyn McCall, said: "To carry 50 million passengers each year is a great achievement and is testament to the great service our people deliver on-board. easyJet has a strong position delivering low-fares, flying people to where they want to go to, at convenient times with friendly service. We aim to provide an easier travel experience for all our passengers, and look forward to our continued growth over the coming years."
* 50 millionth passenger based upon accumulative total for previous 12 months: Pax numbers for Feb 10 – Jan 11 were 50,320,074