Kawasaki "On the Road" tour kick-starts at Silverstone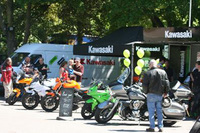 Following the success of last year's countrywide series of events, the Kawasaki On the Road tour will offer even more riding opportunities and attractions in 2011.
Kick-starting with an action packed customer experience day at the impressive Silverstone circuit on Saturday April 9, the event is being seen as the ideal way to get up close and personal with a huge crosssection of the 2011 Kawasaki road motorcycle range in addition to meeting Kawasaki race teams and riders plus a whole lot more.
Along with the chance for visitors to book and take a test ride on a brand new Kawasaki demo machine on the recently launched Stowe track complex - or be accompanied on stunning country roads surrounding the Northamptonshire circuit - attractions include displays by world famous stunt rider, Craig Jones, opportunities to meet and talk to Kawasaki race teams and riders along with former British and World Superbike Champion, Neil Hodgson, plus loads of other attractions and free giveaways on the day.
Guided by rider experience specialists, Focused Events, riding sessions will be on a first come, first served basis using a fleet of brand new machines including the popular ER and Versys models, the new Z750R, all Ninja models from the 250R to the awesome new Ninja ZX-10R as well as the much talked about W800 classic retro bike, the Z1000SX Tourer and the laid back VN1700 cruiser.
In addition to the obvious biking benefits, it's certainly going to be a fun packed day which even offers fans the chance to have their photograph taken with their racing hero and take a print away with them as Sales and Marketing Manager for Kawasaki Motors UK, Michael Johnstone explains:
"With five new models in 2011 - and updates and revisions to popular existing machines - we will have a huge fleet of test machinery available at the stunning opening event for the On the Road Tour. Add to that, the chance to take away a memento photo of you with your favourite Kawasaki racer with all proceeds going to the BEN motor industry charity, and we are sure the day will draw motorcycle fans and Kawasaki riders from a huge geographical area around the easy to get to Silverstone circuit".
With discounts in advance for Kawasaki Riders Club members or those that join on the day, the chance to get the very best value from what will surely be a much anticipated event should not be missed according to Johnstone:
"We've planned this as the ideal motorcycling day out for anyone who currently rides a Kawasaki or, just as importantly, for those that want to find out about us, our new range and have a test ride. Silverstone on Saturday, April 9 looks set to be a stunning opening event for our On the Road tour and we would like as many people as possible to come along and experience what Kawasaki has to offer in 2011".