Welcome Kawasaki return for Walker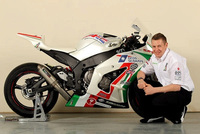 Associated with Kawasaki at key points during his hugely successful career, Chris Walker returns to the Japanese brand and the UK Superbike paddock for the 2011 season. British and World Superbike race winner, Walker will front a single rider team under the Pr1mo racing banner and has a brand new bike to master in the shape of the much praised Ninja ZX-10R.
Not everything is new to the highly experienced Walker however, and the coming season sees him reunited with Kawasaki tuning expert, Ray Stringer, bringing decades of engine development experience to bear on a power-hungry race series.
Certainly Walker is relishing the prospect of the very latest Ninja and the next few weeks will see him start an accelerated development programme for the Pr1mo machine.
"I'm really excited about riding the new ZX-10R. I've raced the last three generations of the Kawasaki flagship Superbike and enjoyed good results on every one of them, but the twenty eleven model definitely promises to take Kawasaki to another level. It's going to be the lightest and most powerful superbike I've ever raced and should be a force to be reckoned with, especially on the tight and twisty British tracks", said Walker.
With the pedigree of Stringer and the obvious performance potential of the new Ninja to rely on, Walker sees the joining of the new team and the established tuner as a winning combination;
"I am pumped to be working with a brand new team and sponsors and being able to have a major input into the bike's development. Ray Stringer has very high expectations for the new bike's engine power and the chassis is a major step forward in terms of racing. He has already built a motor for our Superstock rider Paul Curren and with very minor tweaks within the rules has achieved over 200 BHP at the rear wheel... So what's my superbike going to be like?
And of the loyal "Stalker" fans, Chris commented; "I'm personally really excited about going green again and most hard core Stalker fans will feel the same way too I'm sure. My best ever years of racing have been with the green team, from schoolboy motocross to WSB, so these being my latter years of racing it's great to be back where I feel I belong."
Certainly his arrival rounds off a successful series of rider and team negotiations for Ross Burridge, Racing Coordinator for Kawasaki Motors UK, who commented; "Having Chris back on a Kawasaki in BSB is the icing on the cake. We now have an amazing representation across all the major championships in the BSB schedule and everyone that rides a Ninja ZX-6R or Ninja ZX-10R has a chance to cheer a myriad of riders and teams towards the podium in 2011".