Go nude in the bedroom - Gingerlily's natural silk bed linen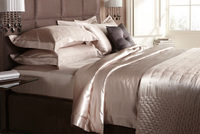 Gingerlily, designers of exquisite silk bed linen and accessories, echoes this season's trend for nude, with exquisite and timeless linens in natural, muted tones. Silk sheets, pillowcases and duvet covers are available in a selection of elegant ivory and delicate nude pinks that co-ordinate with Gingerlily's silk cushions for a delicate, romantic look in the bedroom and the ultimate night's sleep.
These stylish and classic neutral shades are a hot trend for Spring/Summer but will add a touch of elegance throughout the year. Accessorise with Gingerlily's vintage inspired silk blankets and dimple bedspreads for a more elaborate look.
As with all designs in the range, Gingerlily's silk pillows and duvets are hypoallergenic and help to regulate body temperature throughout the night. Gingerlily's duvets come in seasonal weights perfect all year long; keeping you cool in Summer and warm in Winter.
For more information, visit gingerlily.co.uk.