Calvin Klein Home Bedding for Spring 2011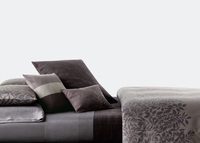 Vibrant luxury blended with subtle modernity. Introducing Calvin Klein Home Bedding for Spring 2011. Polished, refined, and inspired by nature. Classic silhouettes complemented with detailed prints and weaves. A cohesive assortment of organic forms layered with textured graphics.
Thistle. Airy and sophisticated. Painterly floral vines in hues of olive and purple, diffused on a cloud like, watercolor ground. Wave patterned Heath sheeting lends a muted geometric edge, in shades of gulf and dusk.
Aster. Simple, earthy. Loosely rendered blossoms cascading atop a cream-colored backdrop, printed in luxurious autumn shades of almond, blush, and deep teal. Mulberry sheeting provides a sand-colored base for rhythmic, mauve-colored buds.
Marin. Layered florals, in shadowy hues of peat, stone, and sky shown are on a textured hatch ground. A chromatic fusion of prints are grounded on a mineral sea green fabric. The whimsical feel is enhanced by checkered square Mosaic sheeting in muted, neutral hues.
Graphite. Architectural and masculine. Inspired by woven menswear fabrics from the men's Calvin Klein Collection runway. Horizontal bands in an array of tonal greys are paired with Fresco grey percale sheeting for a simple undertone to the textural statement.
For more information, visit french-linen-co.co.uk.