Mayor of London's transport advisor visits Kawasaki event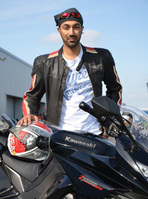 An enthusiastic motorcyclist, the Mayor of London's transport advisor, Kulveer Ranger visited the first Kawasaki "On the Road" tour event of 2011 at Silverstone on 9 April.
Keen to speak to motorcyclists from the wide geographical catchment area who turned up in their hundreds for the first of a series of free test ride events to be held across the UK this summer, Kulveer also had time to explain how the two wheeled community are being considered by Boris Johnson as part of London's transport strategy saying,
"The Mayor made it quite clear when he appointed me three years ago that he wanted to introduce the motorcycles in bus lanes trial. He felt this was important, as powered two wheelers are seen as very cost effective, and also more effective in their use of road space. They do have a role to play in inner city transport hence we are trying to get the best kind of policies to support that, and also focussing on improving the overall safety of powered two wheelers".
Kulveer himself had two accompanied test rides on motorcycles from the Japanese manufacturer's 2011 diverse range of machines on local roads plus the opportunity to see riders take to the newly opened race track in carefully regulated conditions. Of the new Z1000SX, Kulveer was enthusiastic about the highly acclaimed new machine's reassuring handling, and of the VN1700 he tested, how pleasing it felt to ride the big V-twin cruiser in the early summer sun. A keen motorcyclist himself, Kulveer was eager to widen understanding of his role on Boris Johnson's transport team, commenting that:
"As the Mayor's transport advisor and someone who sits on the board of TFL, effectively I'm looking to evolve the Mayor's policies and make sure that we actually get those delivered. I want to make a change in the way transport works including improvements that include more efficiency and more environmentally friendly solutions with less CO2and pollutants.
Fundamentally we're looking to deliver more capacity - or in the case of our road space - make the best of the capacity we have. That's why motorcycles and scooters play such a major role in inner city transport – we know that two wheels take up a lot less space than four!"
Before leaving the successful Kawasaki customer free test ride event on his own 600cc Supersport machine, Kulveer had time to pass on some insight into London's status as a world leading city that considers the benefits of motorcycles, scooters and bicycles in terms of future planning and transport strategy.
"Over the last three years, one thing that the Mayor, Boris Johnson has learned - and something that I have definitely learned - is that a lot of international cities are envious of what we've been doing .
We've had a revolution in cycling, we've looked at a key policy in smoothing traffic flow, we've looked at improving the public's journey times and the quality of road surface. We have also managed to get a large amount of investment to assist us in improving our tube network, something our mayor has fought for in government.
London is undertaking the largest transport project in Europe, Crossrail. It's an exciting place and really is the best big city in the world for transport and progressive transport policies – we hope to keep it this way for many years to come".
General Manager of Kawasaki Motors UK, Howard Dale, welcomed the visit of such a key player in the evolution of transport strategy in the UK's capital saying,
"From a Kawasaki perspective we are delighted that Kulveer Ranger took an interest in our customer test ride event and rode two machines from our new range. I am sure that by riding his own motorcycle to the event, and test riding the Z1000SX and VN1700, he impressed all those motorcyclists he spoke to regarding the important work the Mayor and TFL are doing.
Equally, in my capacity as the current Chairman of the Motorcycle Industry Association, it is highly encouraging that someone who is so obviously enthusiastic about the role of powered two wheelers, and with unique access to the Mayor of London, is playing such a fundamental part in future transport planning for our capital city".