Kawasaki Team Green expands for new season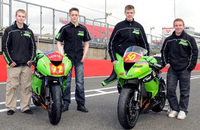 Rolled out onto the grid for the first time last year, the Kawasaki Team Green concept is returning to UK tracks in expanded form such was its inaugural success.
Designed to accelerate the racing ambitions of young riders and create a talent pool for Official Kawasaki racing teams, the Team Green programme for 2011 covers both Superstock 600 and 1000 classes using the company's revered Ninja machinery.
Encompassing the full scope of racing endeavour from presentation and preparation through to on-track competition, Team Green riders are supported by Kawasaki Motors UK and a selection of key sponsor partners including B&C Express, a combination that witnessed enormous growth in the experience and success of last year's squad.
Star pupil from "The Class of 2010", Danny Buchan, is once more included in the squad and returns to the fray, this time aboard one of the formidable new Ninja ZX-10R machines in the Metzeler 1000 Superstock National Championship.
Third by a narrow margin in last year's Metzeler 600 Superstock National Championship, Buchan has shown his mettle already in 2011 with convincing wins plus the outright stock 1000 lap record at Lincolnshire's Cadwell Park during an MRO Powerbike meeting.
With a total of six riders on Ninja ZX-6R machinery and two on the very latest Ninja ZX-10R, rider selection and testing has gone well according to Racing Coordinator for Kawasaki Motors UK,
Ross Burridge: "On 600's we have Connor Behan, David Pearce, Tom Fisher, Tim Hastings, Tony Coombs and Dan Hegarty while Danny Buchan and Johnno Howarth ride the ZX-10R. They are all highly motivated and are posting excellent lap times with just two days of official testing under their belts. With the support of Kawasaki, our sponsor partners and the guidance of our official Superbike and Supersport teams, the solid foundations are in place for another stunning season."