For all the princess brides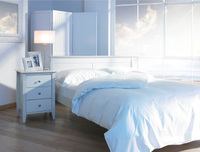 Kate isn't the only soon-to-be princess...Every bride is a princess on her big day and honeymoon!
With latest rumours that the Royal Honeymoon will be 'Down Under', what do newlyweds consider to be the perfect honeymoon environment...? Some opt for sun, sea and sand. But many just look forward to the opportunity to spend quality time with their new spouse in the romantic honeymoon suite!
The Best Bed Linen in the World has the ultimate honeymoon bed linen, fit for a 'Princess Bride'! (And guaranteed to keep that newlywed vibe at home...long after the honeymoon is over!)
For over 20 years, this market leading supplier works with the top five-star "honeymoon hotels" in the UK and Globally, including The Dorchester, The Landmark and the W Hotel in the Maldives.
Available up to super king size with 400 thread count percale, it's Luxury Bed Linen is incredibly soft to the touch due to the quality of the finishing process. With its silky-like texture against the skin, couples won't want anything coming between them and the sheets...including pyjamas!
A true vision in white, its 100% cotton luxury robes and towels are of the purest white; making it the ideal wedding gift for the happy couple to return home to after the honeymoon.
This indulgent collection from The Best Bed Linen in the World is the ultimate treat, and should certainly make newlyweds think twice about getting dressed!?
For more information, visit thebestbedlinenintheworld.com.