'Mite' be time to change your mattress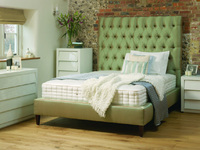 An alarming statistic is that the average bed plays host to around 10,000 dust mites which feed on dead skin... Not a pleasant thought! Research also shows dust mites are often responsible for causing respiratory problems in asthma sufferers. Cleaning bed sheets, duvets and pillows regularly will help but it is advised that you change your mattress every 8 to 10 years.
Specialist bedroom furniture company, Raines & Willow, has a range of luxury divans and mattresses with sizes up to Super King to achieve a quality night's sleep.
It is also vital to achieve a good "posture" in bed. Ideally, the mattress should mould to the shape of your body whilst remaining supportive to avoid back pain and discomfort on hips and shoulders. Therefore, choosing the right mattress deserves careful consideration as it is an investment in your health and wellbeing.
Sara Pomfret, founder of Raines & Willow, gives these three expert tips to choosing a bed and mattress:
1. Always buy the most expensive mattress you can possibly afford and go for a pocket sprung mattress, not a coil sprung. Pocket springs are smaller springs that have individually been wrapped in a pocket, which means that they offer a secret support without feeling those horrible lumps and bumps.
The Luxury Bayswater Mattresses has up to 1,630 pocket springs and is made from sought-after cashmere, silk, soft lambswool and pure cotton. It is also traditionally hand tufted for long lasting comfort and strength.
2. Sprung divan bases offer increased support for the mattress compared to slatted besteads, which offer little or no support.
3. Always buy the biggest bed you can possibly accommodate especially if it is for two. A bed should always be 10cm longer than the tallest person.
The exceptional collection from Raines & Willow includes the sublime Ella Silk Buttoned bed; fully upholstered in 100% silk, whilst the matching divan base is a striking vision especially when coupled with the deep buttoned headboard. The elegant Madison bed and textured headboard are delicately finished with pewter studding detail with a divan to match.
With a superb range of lavish mattresses and divans - all designed and handmade in England - Raines & Willow offer a tranquil sleep for many years to come!
For more information, visit rainesandwillow.co.uk.