Vi-Spring's tailored beds in the must have colour of the season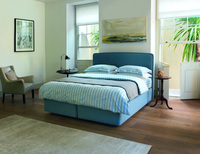 Vi-Spring, creator of the finest handmade beds has introduced blissfully calm, blue linens to its collection of Natural Luxury fabric choices. Designed to become the centerpiece of the bedroom, the divan base and headboard can be upholstered in Sky or Cerulean blue. Complement with sumptuous crisp linen sheets for a timeless and classic look that's also entirely on trend for this summer.
Expertly upholstered, Vi-Spring designers ensure each and every bed is made to exacting standards to provide life-changing sleep for years to come. Only the finest natural materials are used to fill each one; real Shetland Isle fleece wool, mohair, cashmere, horse hair and silk are hand teased and laid over the supportive springs. The sumptuously soft, hand stitched mattress is then finished with exquisite damask fabric.
To locate your nearest Vi-Spring specialist, visit vispring.co.uk.